Rackmount Network Appliance utilizes 4G Intel Xeon®/Core(TM) CPUs.
Press Release Summary: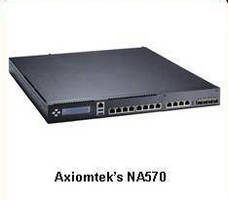 Employing Intel C226 chipset, NA570 supports Intel AES-NI as well as Intel DPDK. Scalable 1U rack-mount network appliance comes standard with 8 Gigabit Ethernet ports and supports 2 groups of LAN bypass segments; PCIe 3.0 allows integration of up to 24 Gigabit Ethernet ports or up to 4 ports at 10GbE. Four DDR3 1600 MHz DIMM sockets provide up to 32 GB storage and support ECC and non-ECC memory types. Storage is provided via 2 internal 2.5 in. SATA hard drives and one CompactFlash™ socket.
---
Original Press Release:

Introducing One of the Most Powerful Rackmount Network Appliance Systems with 4th Generation Intel® Core-based Processor, Axiomtek's NA570



Taipei, Taiwan — Axiomtek, one of the world's leading designers and manufacturers of innovative, high performance and reliable PC-based industrial computer products, has introduced the NA570, its new, high-performance 1U rack-mount network appliance product.  The NA570 offers high and reliable performance through the latest 4th Generation Intel® Xeon® E3-1275 v3 or E3-1225 v3 processors with Intel® C226 chipset.  The powerful NA570 also supports the 4th Generation Intel® Core™ i processors, allowing developers to configure their network solutions based on performance requirements.



Axiomtek's NA570

1U Rackmount Network Appliance with Intel® Xeon® E3-1275 v3 and E3-1225 v3 Processors and up to 24 LAN ports

This advanced network appliance is scalable, customizable and has great expansion capabilities.  Through the PCIe 3.0, the NA570 can integrate up to 24 Gigabit Ethernet ports or up to 4 ports at 10GbE.  The standard NA570 comes with 8 Gigabit Ethernet ports using Intel® i210AT controller and supports 2 groups of LAN bypass segments.  Four DDR3 1600 MHz DIMM sockets can provide storage of up to 32 GB and support both ECC and non-ECC memory types.  To enhance reliability, this SMB platform supports data protection via 2 pairs of latch-type LAN bypass functions for fail-over option and features BIOS console redirection. Axiomtek's network appliance platform is suitable for a variety of applications including VPN, firewall and security applications, network bandwidth controller, WAN accelerator and surveillance system.



"Axiomtek's outstanding NA570 network appliance product offers a greater range of processor choices and expansion capabilities that allows developers to configure their network solutions based on performance requirements and price points," said Joyce Wu, Product Manager of Product & Marketing Division at Axiomtek.  "The Intel® AES New Instruction (AES-NI) enhancements included with NA570 use hardware-based acceleration to encrypt and decrypt data.  It also supports the Intel® Data Plane Development Kit (Intel® DPDK), a set of software libraries that can improve packet processing performance by up to ten times.  It can achieve over 80 Mbps throughput on a single Intel® Xeon® processor."



The NA570 features two internal 2.5" SATA hard drives and one CompactFlash™ socket for storing event logs.  In order to address the various network application needs, the appliance also features one console port, two USB 2.0 ports and a VGA port.  There is a front-facing LCD module activity indicator for convenient monitoring of power and HDD activity.  The system also supports mainstream Linux operating systems.



Axiomtek's NA570 is one of the most advanced, high performance network appliances of its kind.  It will be available shortly in March of 2014. For more product information or pricing, please visit us at www.axiomtek.com or contact one of our sales representatives at info@axiomtek.com.tw.



Advanced Features

• Supports the 4th Generation Intel® Xeon® E3 / Core™ i family processors (codename: Haswell)

• Eight 10/100/1000Mbps ports in default, two expandable LAN modules with up to 24 LAN ports

• Supports LAN Bypass and Bios redirected to COM port

• Supports max. 32 GB DDR3-1600MHz non-ECC / ECC memory

• Two 2.5" SATA HDD or one 3.5" SATA HDD (optional)

• ATX power supply in default, 1U redundant power supply by optional

• Supports Intel® AES New Instruction (AES-NI) and Intel® Data Plane Development Kit (Intel® DPDK)

• Suitable for UTM, VPN, Network bandwidth controller, firewall applications

More from Thermal & Heating Equipment