Rackmount Industrial Computer features LCD display and keyboard tray.
Press Release Summary: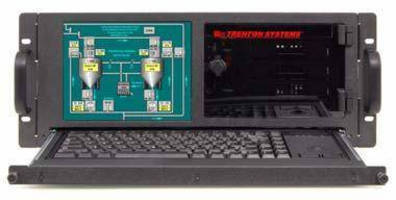 Trenton TRC4007 industrial computer features 8.4 in., 800 x 600 LCD display and keyboard tray within 4U rack-mount enclosure. Lightweight aluminum chassis is 20 in. deep and holds up to 3 front access, hot-swappable 3.5 in. storage bays and one slim-line optical drive bay. Options include Trenton JXT6966 SBC with 2 quad-core processors and BPC7041 PCI Express 2.0 backplane, as well as other SBCs, backplanes, and embedded motherboard options.
---
Original Press Release:

Trenton 4U Industrial Computer Blends Process Control and HMI Applications



TRC4007 industrial computer is a customer driven solution that brings embedded computing choices and system flexibility to human machine interface environments.

Atlanta, GA - The Trenton TRC4007 industrial computer is now available for deployment in computing applications requiring a compact rackmount chassis with a built-in LCD display and keyboard tray. Trenton simplifies industrial computer integration by incorporating the LCD display and the keyboard/mouse tray within a compact 4U rackmount computer enclosure. The TRC4007 combines advanced single board computer options such as the Trenton JXT6966 SBC with two quad-core processors and a BPC7041 PCI Express 2.0 backplane. This configuration option offers the industry's first system solution with 37 lanes of PCIe Gen 2, connected directly to the JXT6966 to maximize system data throughput and bandwidth. The TRC4007 enables simplified system deployments in many diverse applications such as machine control, process control, Mil-COTS control systems and other applications requiring stability, longevity and performance.

Here is an abbreviated features list of the Trenton TRC4007 industrial computer:

TRC4007

Light-weight Aluminum Chassis

4U, 20" (50.8cm) depth with 8.4" LCD Display and integrated keyboard/mouse tray

Storage Options

Up to three, front access, hot swap 3.5" storage bays & one slim-line optical drive bay
Computer Options

A variety of single board computers, backplanes and embedded motherboard choices
Please visit the Trenton 4U rackmount computers web page for information on other 4U systems.

"The integrated LCD display and keyboard/mouse tray design of the TRC4007 plus the high-performance computing capability of the system's SBC, backplane, embedded motherboard and storage options, creates a platform ideal for applications where component space is at a premium", said Michael Bowling, Trenton Director of Operations. "The TRC4007 LCD display's 800 x 600 screen resolution when coupled with the single board computer and embedded mother board options; that are backed with our five-year factory warranty, provides a powerful computing system designed to last in industrial applications."

About Trenton

Trenton is a designer and manufacturer of complete industrial rackmount computer systems as well as embedded motherboards, single board computers, system host boards, backplanes and processor AMCs for critical embedded computing applications. Trenton is a member of the Intel® Embedded Alliance, a community of communications and embedded developers and solution providers.

For more information about our company, or any Trenton product, call (800) 875-6031 or (770) 287-3100. Please visit our website at www.trentontechnology.com or follow us on:
PCI Express is a registered trademark of the PCI-SIG.

All other product names are trademarks of their respective owners.

More from Mechanical Power Transmission