Rackmount 36/48/60 Bay NAS Enclosure offers up to 720 TB capacity.
Press Release Summary: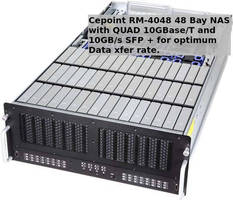 Targeting 24/7 data center and real-time, mission-critical storage applications, RM-4000 series accommodates 36, 48, or 60, 3.5 in., top-loadable, hot-swap enterprise hard drives for 720 TB max storage capacity in one 4U rack unit. Features include 12 GBps dual domain SAS expanders, 4 host QUAD 10GB/s Base T with 10GB/s SFP plus for data transfer rate to 40 GBps, and 1,280 W of 80 Plus Gold hot-swap power supply. Fault tolerant hardened features suit any IT infrastructure ecosystem.
---
Original Press Release:
Introducing 4U 60-Bay NAS Rackmount Storage Enclosure
Introducing Cepoint's 4U 60 Bay 720TB rackmount NAS high capacity, single enclosure storage solution for 24 x 7   Data Center and real-time mission-critical storage applications  such as enterprise large scale IP video streaming and surveillance services

Nashua, NH. Cepoint has announced it will start shipping its  36/48/60-bay 4U rack mount RM-4000 series data center and enterprise storage NAS solution starting first quarter of this year.

Cepoint's RM-4000 4U hyper-scale NAS storage system for Enterprise or data center accommodates 36/48/ or 60 3.5" top-loadable hot-swap enterprise hard drives providing total storage capacity to 720TB in a single 4U rack unit.

Built with 12GB/s dual domain SAS expanders, 4 host QUAD 10GB/s Base T with 10GB/s SFP plus for optimum data transfer rate up to 40GB/s, the systems high performance and high speed up to 40GB/s data xfer rate and too-less design module for Easy Services and Easy maintenance makes the Cepoint RM-4000 4U 60-bay NAS series the best Data Center NAS solution to be introduced in the industry this year.

With 1280 watts of 80 Plus Gold hot-swap power supply and full Fault tolerant hardened features the system is well positioned for any IT infrastructure ecosystem. The system is fully compatible and complaint with Linux, Windows Server, VMWare, EMC, HP, NetAPP. IBM, virtual and non-virtual storage ecosystem.

Pricing starts at around $39,995 for a 36-bay 216TB system.

Abount Cepoint Networks;
Cepoint Networks, LLC is an storage enterprise systems integration, and high performance computing manufacturer, specializing in high availability storage, applied computing products, and services for data centers, ISP's, enterprise applications, telephony and telecommunications industry, Government, utilities and industrial markets. The Company's other products and services include; turnkey rack mount fault-tolerant cluster servers for mission-critical applications, servers, video-on-demand, telephony systems for VoIP (Voice-over IP), video/audio conferencing, real-time IRIG-B or GPS time-stamp digital recorders, message logging and telecasting and, rugged portable lunch box workstations for field applications, network engineers and technicians. 1U, 2U, 3U and 4U  NEMA and NEB's compliant servers and workstations for data acquisition,  audio and video data archives or real-time video/data streaming. Company's website is http://www.cepoint.net  for storage product info. Or www.cepoint.com for Broadcast products.

For more information contact: sales@cepoint.com or Ph: (603)321-3762 Website: www.cepoint.net and http://www.cepoint.com or Contact: sales@cepoint.net  Cepoint Networks, LLC www.cepoint.net Ph:(603)321-3762
More from Computer Hardware & Peripherals