Material Handling and Storage Racks
Racking System facilitates leak-free solar panel installation.
Press Release Summary: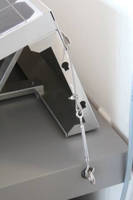 Designed for commercial projects with flat roofs, Eulektra ALVA consists of interconnected adjustable aluminum pieces that can be snapped together. Compact design enables solar panels to be mounted within 1/5 in. of each other and does not require any roof penetration. Weighing 10.7 lb/ft², wind-resistant product secures to building using steel cables anchored in building walls. Aluminum construction helps protect panels against breakage caused by rapid temperature changes.
---
Original Press Release:

Installing Solar Panels is Easy Then Ever Before - No More Roof Leaks



New Eulektra ALVA racking system is easy to install, cost effective and does not require any roof penetration



Texas – KEI Solar today announced the availability of the Eulektra ALVA Solar Racking System for North American solar installers and commercial projects. Developed in Germany, the Eulektra solar racking system has been extensively tested and installed through Europe and is now available for US solar installations.



Designed for flat roofs, the lightweight (just 22lbs per square meter (10.7 sq. ft.) Eulektra system is easy to install. It is wind resistant without requiring additional weights and offers better power generation results than competing panel installation technologies.



Because of its compact design, solar panels can be mounted closer together than with other mounting technologies (One-fifth of an inch apart!). This enables installers to install more panels on a roof and/or provide additional roof space for other rooftop machinery and systems.



"Because the Eulektra system does not require any roof penetration, there is much less concern about creating roof leaks that are difficult and expensive to repair," says Jens Kautzor, CEO of KEI Solar. "Simple to set-up, the ALVA system consists of interconnected adjustable aluminum pieces that can be snapped together and be quickly installed by using only a power screwdriver and pliers. No special training or expertise is required".



After the entire system is laid out on the roof and interconnected with the provided bracing, the aluminum structure is then secured to the building by using steel cables that are anchored in the building walls and mounted into the cable channels of the ALVA system. This installation method guarantees that the roof cladding remains completely undamaged. No more leaks.



The installation images at http://www.keisolar.com/alva-system.html demonstrate the various components and show how easy it is to install.



The ALVA system is resistant to swirling winds and has been hurricane wind speed tested. It also requires less maintenance than other systems. Considering that aluminum expands and contracts as the temperature changes, the ALVA system is flexible, protecting panels against breakage caused by rapid temperature changes. To ensure good rain drainage, the system can be elevated with provided 10cm by 10cm installations pads.



ABOUT KEI

KEI Solar specializes in bringing the best of Germany's solar technology to the United States. Based in Texas, KEI was founded in 2014 and currently represents Eulektra GmbH. KEI facilitates the business relationship, handling and coordinating shipping and customs, as well as providing customer support and guidance to those organizations and individuals installing latest generation solar power generating systems.



More information about KEI and the ALVA racking system are available at http://www.keisolar.com/alva-system.html



PR Contact

Mark Shapiro

mshapiro@srs-techpr.com

1 619 249 7742



Mark Shapiro

SRS Tech PR - "Media Relations for the Connected World"

mshapiro@srs-techpr.com

+ 1 619 249 7742

Landline 858-668-7323

Twitter - @SRSTechPR

http://www.linkedin.com/in/markrshapiro/

LinkedIN articles https://www.linkedin.com/today/author/475028

Google Plus - https://plus.google.com/+MarkShapiroSRSTech

More from Optics & Photonics