Rack Mount LCD Monitors fit in standard server racks.
Press Release Summary: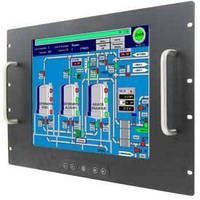 Available in 12.1, 15, 17, 19, and 20.1 in. sizes, Rack Mount LCD Monitors feature all steel construction with robust rack mountable aluminum bezel and attached carrying handles. Optional add-on features include touchscreen integration, wide voltage inputs, enhanced brightness, shock/vibration resistance enhancements, and VGA, DVI, SDI, and other video inputs. Custom paint color, logo, modification, and hard coated vandal shield options are also available.
---
Original Press Release:

AIS Releases Low Cost Rugged Rack Mount LCD Monitors for Industrial and Commercial Applications



Irvine, CA - American Industrial Systems Inc. (AIS), a leading industrial LCD monitor and display manufacturer released a low cost line of industrial rack mountable monitors. AIS cost effective solutions are available as a direct drop in monitor for standard server racks. Industrial grade components are utilized to ensure high reliability, performance, and long product availability. The rackmount LCD monitors are available in several sizes from 12.1" to 20.1" in size to meet a variety of applications including control rooms, telecommunication, broadcasting, security monitoring, and industrial & commercial servers.

The rugged monitors feature all steel construction with a robust rack mountable aluminum bezel. Attached are convenient carrying handles to move the display from server to server if necessary. Optional add-on features are available such as touchscreen integration, wide voltage inputs, enhanced brightness, shock/vibration resistance enhancements, and various video inputs including VGA, DVI, SDI, and others are available. AIS products are fully documented and tested to meet FCC, CE and ROHS compliance standards for easy integration into existing systems. AIS industrial LCD display lines offer a wide variety of custom options such as custom paint colors, silkscreening, modifications, and hard coated vandal shields to truly make this product a one of a kind monitor for your application.

Pricing for AIS 15" Rack Mount LCD Monitors Starting at $449

Features and Benefits:

o Meets FCC, ROHS and CE Standards
o AIS rugged rackmount LCD monitors offer 12.1", 15", 17", 19" and 20.1" in size.
o Designed to fit into server racks, cabinets, control rooms, military, broadcast and security monitoring applications
o The industrial grade monitors are lightweight but rugged metal construction makes it easy to install and more robust than standard commercial monitors.
o AIS Industrial LCD display lines, a wide variety of custom options are available including paint color, customer logo, modification, hard coated vandal shields.
o Long product life cycle and reliability
o VGA, DVI, SDI and additional video inputs available
o Touch-screen capable

About American Industrial Systems Inc.
AIS is a leading global designer and manufacturer of specialty industrial displays, industrial panel pc, rugged tablet pc and digital signage solutions for industrial, commercial, public service, marine, military, government, education, medical, healthcare, kiosks and digital signage markets. AIS specialize in designing and manufacturing cost-effective LCD and embedded computing products for the industrial market, as well as ODM/OEM applications worldwide. Whether your vision involves off-the-shelf displays or highly customized embedded computing solutions, AIS can supply the experience, technology, and resources you need to build it right and get you to market first. For additional information on AIS products and services, please Call AIS toll-free at (888) 485-6688 or visit: www.aispro.com

Contacts
American Industrial Systems Inc.
Alan Wong
949-681-7461
alan.wong@aispro.com