Rack Mount Displays have NEMA 12 rating.
Press Release Summary: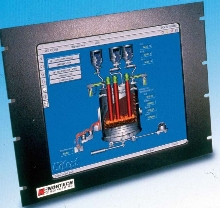 Designed to fit standard 19 in. EIA rack, RACK MOUNT EXPRESS units are available in 15, 17, and 19 in. models. All feature chemically strengthened protective glass and encompassing rear cover to protect electrical components. Displays can also be fitted with optional touch screens.
---
Original Press Release:

Nortech Engineering has Introduced a New Line of Rack Mount LCD Displays


Norton, MA--Nortech Engineering has introduced a new line of Rack Mount LCD Displays. Designed to fit in a standard 19" EIA rack, these RACK MOUNT EXPRESS units are available as 15", 17" and 19" displays and can be fitted with optional touch screens.

All Nortech displays are engineered to the highest quality standards and the RACK MOUNT EXPRESS Series has a Nema 12 rating. They were specifically designed as a lower cost alternative yet they come standard with chemically strengthened protective glass at no extra charge. And unlike other competitor offerings, Nortech's RACK MOUNT EXPRESS line has no dangling power bricks to deal with. All our LCD's have an encompassing rear cover to protect electrical components.

Along with our Light Industrial EXPRESS Series, Nortech offers slim Panel PC's; rugged Nema 4 FPI Series LCD's; Military Displays; Rack Systems; Membrane Keypad Workstations; Industrial LCD Workstations; Industrial PC's; HMI LCD's; Shoebox PC's; Industrial Keyboards and Cabinet Systems. Nortech has the most complete line of industrial products on the market.

For more information contact:
Dan Russell
Sales Manager
Nortech Engineering
A Division of Nortech Engineering, Inc.
15 Commerce Way, Suite 1003
Norton, MA 02766
TEL: 508-285-7831, FAX: 508-285-7861
E-mail: drussell@norteng.com
Web-Site: nortenq.com
15 Commerce Way, Suite 1003 Norton, MA 02766
Tel 508-285-7831 / Fax 508-285-7861
www.norteng.com


More from Non-Industrial Products