Rack-Mount Datacenter PDU enables power management via Web.
Press Release Summary: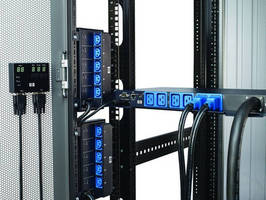 HP Intelligent Power Distribution Unit (iPDU) allows local and remote monitoring of power consumption at core, load-segment, stick, and outlet level. Power-cycle ability of individual outlets or pairs of outlets is provided, and unit also relays information for automatic mapping of power topology inside rack, reducing risk of human errors that can cause power outages. Providing single- and 3-phase monitored power, system also offers full-rack power from 4.9-22 kVA and up to 30 outlets.
---
Original Press Release:
New HP Intelligent Power Distribution Unit (iPDU) Simplifies Data Center Power Provisioning with Automated Power Mapping
Houston - HP introduces the HP Intelligent Power Distribution Unit (iPDU) for precise local and remote monitoring of power consumption at the core, load-segment, stick, and outlet level. With 99 percent accuracy above 1 watt, the iPDU can track and control power consumption to help IT and facilities managers correctly provision power in the data center. Remote management via a web engine is built in to the HP iPDU and even provides power-cycle ability of individual outlets or pairs of outlets. HP is the first to incorporate Intelligent Power Discovery which, when combined with HP's line of Platinum level high efficiency power supplies, allows the HP iPDU to communicate with the attached servers. The iPDU relays information for the automatic mapping of the power topology inside a rack - greatly reducing the risk of human errors that can cause power outages. These rack-mount PDUs provide both single-phase and three-phase monitored power, as well as full-rack power utility ranging from 4.9kVA up to 22kVA and up to 30 outlets. Hp's Intelligent PDUs have a core and stick modular architecture that improves their flexibility. This building-block concept consists of two main parts, the iPDU Core Unit, and the Extension Bar. The HP iPDU ships with one Core Unit, the mountable LED display and mounting hardware and can be zero-U or 1U rack mounted. Optional Extension Bars mount directly to the rack-frame or the rack extension unit. Each iPDU Core Unit incorporates a built-in web engine for remote monitoring and control and includes the LED display unit for local monitoring of current at the rack. The LED displays show power draw (amperage) at the iPDU, individual C19 outlets (load segments), and individual C13 outlets on the Intelligent Extension Bars. Power Monitoring Each power line communications (PLC) power cable incorporates RS232 serial connection to enable Intelligent Power Discovery. Intelligent Power Discovery transfers server identity information between the HP Common Slot Platinum Power Supplies and the HP Intelligent PDU's Intelligent Extension Bars and automatically maps the server to outlets on the iPDU. Pricing and Availability Sold through Authorized Dealers, the HP Intelligent Power Distribution Units with core, extension bars and cabling are available now with a U.S. Internet price starting at $1200 depending on amperage and number of power phases. Pricing may vary by country or region. Additional product and technical information for the Intelligent PDU is available at the Hewlett Packard Web site at www.hp.com/go/infrastructure. To learn more about HP's Intelligent Power Discovery, go to http://www.hp.com/go/ipd
More from Fluid & Gas Flow Equipment