Rack Case comes in 19 in. EMC screened version.
Press Release Summary: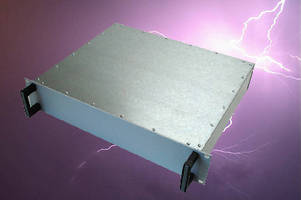 Designed to accommodate electronic, electric, and electro-mechanical equipment, Veroshield Rack Case comes in 3 sizes: 1U high x 10.4 in. deep, 2U high x 14.4 in. deep, and 3U high x 14.4 in. deep. Typical attenuation figures are in excess of 110 dB up to 10 MHz, falling linearly to 40 dB at 1 GHz. Constructed from 0.9 mm zinc-plated steel, case maintains electrical conductivity throughout. Additional 19" aluminum front panel, external to screened enclosure, is provided to optimize appearance.
---
Original Press Release:

EMC Screened 19" Rack Cases



The latest addition to Verotec's family of 19 inch rack cases is the Veroshield 19" EMC screened version, which combines the ability to easily mount a wide range of electronic, electric and electro-mechanical equipment in a standard 19" enclosure with good EMC performance. The Veroshield is particularly useful in larger 19" rack-mounted systems where only some elements of the overall equipment require elevated levels of EMC capability; they are also an effective way of providing screening in desktop systems without having to modify a standard enclosure.

Available in three sizes: 1U high and 10.4", 265 mm, deep, 2U and 3U high and 14.4",365 mm, deep to provide a perfect fit in the company's market-leading 19" Diplomat desktop and tower cases, typical attenuation figures are in excess of 110 dB up to 10 MHz, falling linearly to 40 dB at 1 GHz. The rack case is constructed from 0.9 mm zinc plated steel to maintain electrical conductivity throughout the unit; an additional 19" aluminium front panel, external to the screened enclosure, is provided to improve the appearance when the unit is mounted in a rack or desktop case. Removable top and bottom covers facilitate easy access to the internal components; they are secured with multiple fixings around their periphery to ensure that slot lengths are kept to a minimum to preserve the high levels of attenuation. The flat panel construction enables the units to be easily machined to suit the requirements of the application.

One off list prices are 1U $98.41, 2U $130.55 and 3U$168.61.

For further information:

Marc Harvey

Verotec Inc

PO Box 469

Londonderry

New Hampshire

03053

Tel: 603.821.9921

Fax: 603.821.9923

sales@verotec.us

www.verotec.us