R. STAHL Inc, Type X, Y, and Z Purge Controllers are ATEX, IECEx, NEC and CEC Certified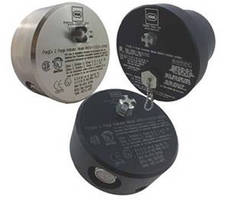 Compact, Light Weight, and Simple to Install



Stafford, TX – R. STAHL is pleased to introduce PurgEx, a complete line of X, Y, and Z Purge Indicators and Controllers. With units as small as 4.5" in diameter, and 1.88" of depth, it's compact design is ideal for panels where space is limited. The units are certified to the latest standards of ATEX, IECEx, NEC, and CEC. "The PurgEx units come with an integral vent eliminating the need for accessory vents on enclosures less than 15 cubic feet", said Craig Yoss, Vice President of Marketing and Business Development. "This reduces components, cost, and labor" he continued. The units come standard with a set of dry contacts for remote monitoring. It also contains a powerful LED indicator, giving greater visibility of functionality. For more information on the PurgEx unit, go to www.rstahl.com.

More from Material Handling & Storage