RÖHM's Lubritool Minimizes Manual Lubrication Work
Press Release Summary: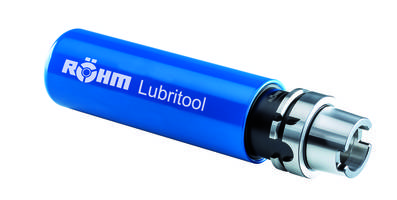 RÖHM's Lubritool is offered in HSK-A63 and HSK-A100 interfaces. This unit consists of Lubriflux grease cartridge used for 100 cycle applications. The lubritool is stored in the machines's tool magazine and upon instruction control is swapped into spindle and lubrication is done. Unit eliminates the interruption of the workflow for lubrication process.
---
Original Press Release:
RÖHM Lubritool Automatically Lubricates HSK Clamping Systems in Seconds
SUWANEE, Ga., March 27, 2018 — Clamping and gripping technology specialist RÖHM Products of America has introduced a fast, intelligent and fully automatic lubrication device for HSK spindle tool clamping systems. The new device is called Lubritool, and it minimizes costly and time-consuming manual lubrication maintenance work as well as prevents machine downtime.
Lubritool is available in HSK-A63 and HSK-A100 interfaces and includes a Lubriflux grease cartridge that provides 100 cycle applications. The device is stored in the machine's tool magazine and upon command by the machine's control is swapped into the spindle to provide the ideal amount of lubrication directly to the tool clamping system. After the lubrication process, which occurs in just a few seconds, Lubritool is placed back into the tool magazine where it remains until the next lubrication cycle.
HSK clamping sets should be serviced after approximately 75 hours of operation or 20,000 tool changes to ensure process reliability. The manual lubrication process usually requires the machine to be shut down, which interrupts workflow to the point where operators will extend the time between lubrications or neglect the process altogether. Deviations from the optimum lubrication protocols can result in machine performance deterioration and/or failure.
At EMO 2017, the Lubritool received the MM Award for innovation presented by the trade journal MaschinenMarkt.
About RÖHM Products of America
Headquartered in Suwanee, Georgia, Röhm Products of America, a division of the RÖHM Group, has been a leading provider of high-quality clamping and gripping technologies to the North American metalworking industry since 1978. The company's broad and powerful product portfolio encompasses drill chucks, live centers, lathe chucks, vises, automation technology, power chuck technology, mandrels, tool clamping systems, and customized solutions for turning, milling, drilling, and grinding applications. The company also takes pride in providing world-class support and services to ensure trouble-free machining processes for its customers within the aerospace, automotive, energy, engineering, micro technology and rail vehicle manufacturing sectors. Röhm also holds International Traffic in Arms Regulations (ITAR) Registration. For more information, please visit www.rohm-products.com.
MEDIA CONTACTS:
RÖHM Products of America
Matthew Mayer
Chief Executive Officer
770.963.8440 | matthew.mayer@rohmproducts.com
or
dgs Marketing Engineers
Chuck Bates
Director of Public Relations
317.813.2230 | bates@dgsmarketing.com
Related