R&S' Latest PRISMON Software Meets User Demand Throughput and Processing Power
Press Release Summary: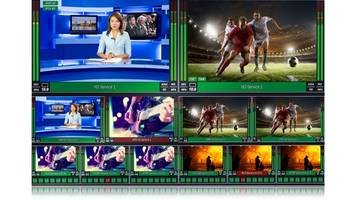 R&S' Audio/Video Monitoring and Multiviewer PRISMON Software is embedded with Dolby Digital™/Dolby Digital Plus™/Dolby E™ features. The new solution is enhanced root cause analysis through Incident Recording function, SCTE-35 monitoring and OTT streams. PRISMON offer simultaneous multi-delivery monitoring for providers of broadcast and streaming media services.
---
Original Press Release:
Convergent Audio/Video Monitoring and Multiviewer Solution for Broadcast und Streaming Media by Rohde & Schwarz
Rohde & Schwarz (booth SL 6610), a leading international provider of broadcast and digital media solutions, will use NAB 2018 to showcase a number of new and interesting features for its award-winning audio/video monitoring and multiviewer solution R&S PRISMON.
Munich, April 10, 2018 – Driven by recent advances in standardization, there is an industrywide trend for high performance Ethernet/IP-based networking and IP-based configuration and control of next-generation workflows in production/contribution environments. R&S PRISMON helps customers to master these trends by adding support for SMPTE 2110 and AMWA IS-04 to its latest software release. Additionally, the versatile set of I/O interfaces has been extended up to 100 GE, and the high performance platform R&S PRISMON ULTRA (1RU) has been added to the portfolio. With this, the latest R&S PRISMON meets even the highest customer demands for throughput and processing power.
Today each channel requires simultaneous monitoring of multiple broadcast and OTT streams carrying identical content. Depending on the actual distribution path, each stream is encoded with different quality and bit/framerate. The resulting diversity causes high technical complexity and many sources of possible errors. R&S PRISMON now provides simultaneous multi-delivery monitoring to successfully address this challenge for providers of broadcast and streaming media services on a single, converged platform.
Other recent feature enhancements of R&S PRISMON are e.g. certification for Dolby Digital™/Dolby Digital Plus™/Dolby E™ , enhanced root cause analysis via a new Incident Recording function, SCTE-35 monitoring for MPEG-TS and OTT streams, and the addition of CMAF to the already comprehensive protocol suite for OTT monitoring.
Leveraging the experience from previous NAB 2017, IBC 2017 and SMPTE ATC 2017 interoperability showcases, R&S PRISMON will again actively participate in the NAB 2018 IP Showcase, running interoperable implementations of SMPTE 2110 in a live environment.
Press contacts:
Europe (headquarters): Patrizia Muehlbauer (phone: +49 89 4129 0; email: press@rohde-schwarz.com)
North America: Maryam Larki Bavi (phone: +1 818-846-3600 x1411; email: Maryam.LarkiBavi@rsa.rohde-schwarz.com
Asia Pacific: Wen Shi Tong (phone: +65 6 307-0029; email: press.apac@rohde-schwarz.com)
Rohde & Schwarz
The Rohde & Schwarz technology group develops, produces and markets innovative test and measurement, information and communications technology products for professional users. Rohde & Schwarz focuses on test and measurement, broadcast and media, cybersecurity, secure communications and monitoring and network testing, areas that address many different industry and government-sector market segments. Founded more than 80 years ago, the independent company has an extensive sales and service network in more than 70 countries. On June 30, 2017, Rohde & Schwarz had approximately 10,500 employees. The group achieved a net revenue of approximately EUR 1.9 billion in the 2016/2017 fiscal year (July to June). The company is headquartered in Munich, Germany, and also has regional hubs in Asia and the USA.
More from Controls & Controllers