R&S' Connectivity Tester enables OTA tests on Bluetooth devices.
Press Release Summary: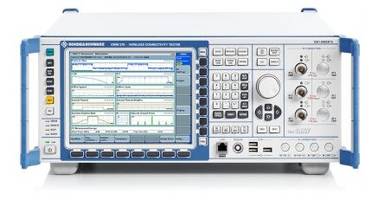 R&S CMW270 Wireless Connectivity Tester offers bandwidth of up to 160 MHz and allows WLAN RF test of IEEE 802.11a/b/g/n/ac and 802.11ax standards. Unit is capable of testing Bluetooth Classic, Bluetooth LE and standard Bluetooth 5 devices and performs signaling tests, audio tests on Bluetooth basic rate/enhanced data rate. Product is operated based on parametric test concept.
---
Original Press Release:
Rohde & Schwarz to Present World's First Signaling Test Solution for Bluetooth® LE
Many manufacturers of Bluetooth® LE components find it challenging to test modules and sensors in compliance with the standard. These devices often have no connection for a control line, which is necessary for testing them in direct test mode (DTM) as stipulated by the Bluetooth® LE standard. The R&S CMW270 wireless connectivity tester from Rohde & Schwarz now enables over-the-air (OTA) tests on Bluetooth® LE devices, same as for Bluetooth® Classic devices, a function already implemented in the tester.
Bluetooth Low Energy (LE) has emerged as a major transmission technology for the Internet of Things (IoT). Bluetooth LE components are found in a variety of applications in the automotive industry, in sports and healthcare, in consumer electronics and smart homes, and in other areas. Many of these radio sensors are very small and integrated into equipment. When drafting the Bluetooth LE test specifications in 2010, Bluetooth SIG specified a direct test mode via a control line but did not specify an OTA signaling test mode. Many small Bluetooth LE devices offer no port or interface to connect a control line. Rohde & Schwarz now presents the first solution for Bluetooth LE signaling tests, facilitating device and component tests for manufacturers.
Fast OTA signaling tests for Bluetooth LE
The Rohde & Schwarz signaling test solution uses OTA measurements on an R&S CMW270 wireless connectivity tester to verify the RF properties and performance of Bluetooth LE devices in operating mode. The DUT's signal level, modulation and receiver sensitivity, among other parameters, can be determined in this way. The Bluetooth LE signaling functionality of the R&S CMW270 provides the basis for the complex measurements and the wide variety of Bluetooth applications that have emerged as a result of the tremendous growth in the IoT sector. That makes the R&S CMW platform a safe investment also for coming generations of Bluetooth specifications.
Comprehensive Bluetooth RF tester
The R&S CMW270 delivers the full range of Bluetooth RF tests, including Bluetooth Classic, Bluetooth LE, and the latest standard, Bluetooth 5. Users can perform signaling tests and tests in direct test mode, as well as numerous audio tests on Bluetooth basic rate/enhanced data rate (BR/EDR) links. The R&S CMW270 is especially suitable for tests during development and for preconformance tests in preparation for Bluetooth SIG qualification.
Complex Bluetooth, WLAN and ZigBee tests in a single box
The R&S CMW270 wireless connectivity tester relies on a parametric test concept that allows the creation of application-specific test sequences. The tester's bandwidth has been extended to 160 MHz. That also enables WLAN RF tests covering the IEEE 802.11a/b/g/n/ac and 802.11ax standards. RF tests for ZigBee components, which are often used in smart home environments, are also available.
Rohde & Schwarz will showcase the R&S CMW270 with its full range of functions at Mobile World Congress 2018 in hall 6, booth #6C40. The signaling test function for Bluetooth LE will premiere at MWC, and will be available from Rohde & Schwarz in the first half of 2018. For detailed information on test solutions for Bluetooth® Low Energy (LE) and Bluetooth® Classic go to www.rohde-schwarz.com/ad/press/bluetooth.
Rohde & Schwarz
The Rohde & Schwarz technology group develops, produces and markets innovative information and communications technology products for professional users. Rohde & Schwarz focuses on test and measurement, broadcast and media, cybersecurity, secure communications and monitoring and network testing, areas that address many different industry and government-sector market segments. Founded more than 80 years ago, the independent company has an extensive sales and service network in more than 70 countries. On June 30, 2017, Rohde & Schwarz had approximately 10,500 employees. The group achieved a net revenue of approximately EUR 1.9 billion in the 2016/2017 fiscal year (July to June). The company is headquartered in Munich, Germany, and also has regional hubs in Asia and the USA.
More from Electronic Components & Devices