QVGA LCD is suited for use in mobile terminals.
Press Release Summary: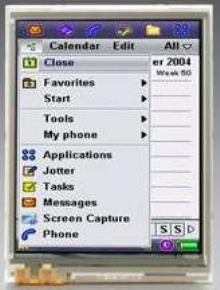 Touch panel-equipped NL2432HC17-01B provides 2.7 in. quarter video graphic array (QVGA), amorphous silicon TFT LCD with 180 cd/m² brightness, 400:1 contrast ratio, and 25 ms response time. Color display features low power consumption of 220 mW, making it suited for use in GPS-enabled portable terminals as well as smart phones that combine cellular phone and PDA functions.
---
Original Press Release:

NEC LCD Technologies' 2.7-Inch QVGA LCDs Suitable for Use in Mobile Terminals


Tokyo, April 19, 2005 --- NEC LCD Technologies, Ltd. today announced that sample shipments of its 2.7-inch (6.8cm diagonal), quarter video graphic array ("QVGA"), amorphous silicon thin-film-transistor liquid crystal display ("TFT LCDs"), part number "NL2432HC17-01B," will commence in June 2005. This model realizes high contrast, vivid display, and low power consumption making it ideal for use in mobile terminals.

The main characteristics of the new model are as follows:

High Levels of Visibility:

This model achieves a high contrast ratio of 400:1, which is the highest contrast ratio level in the category of color TFT LCD modules for mobile terminal use. It realizes this high level of visibility through the brightness level of 180cd/m2. In addition, it achieves a quick response time of 25ms, representing the fastest response time in the category of color TFT LCD modules for mobile terminal use. It also enables high quality moving images.

Touch Panel-Equipped:

Equipped with a touch panel that rapidly increases its demand for use in mobile terminals, this model also brings many benefits for manufacturers of mobile terminal equipment in terms of development cost and lead time.

Low Power Consumption:

This model realizes low power consumption of 220mW, while also simultaneously boasting a touch panel, high contrast ratio, and high brightness. Low power consumption is an extremely important factor for mobile terminals as it contributes to enabling longer battery life.

Recently, all kinds of terminals are rapidly merging with cellular phones. This has brought about the birth of a new type of terminal called "smart phones," which are compound portable terminals that possess cellular phone and PDA functions. GPS-enabled portable terminals are now becoming widespread in Western Europe and North America.

This evolution in mobile terminals has brought with it an extreme rise in the display of information and images on new and advanced terminals, which has in turn induced a great demand for LCDs enabling vivid color display, high visibility, and suppressed power consumption simultaneously. NEC LCD Technologies has specifically developed this new 2.7-inch LCD to respond to these new and emerging needs.

NEC LCD Technologies will continue to commercialize products boasting high added-value such as those with high picture performance and high specifications even in the field of small LCD modules for mobile terminals, aiming to contribute to the evolution of future mobile devices and the development of new fields.

About NEC LCD Technologies, Ltd. NEC LCD Technologies, Ltd. is one of the world's leading providers of high-quality, innovative, active-matrix liquid crystal display (AM-LCDs) modules for the industrial and high-end monitor markets. The company focuses its development on three core technology areas: ultra-wide viewing angle SFT technology, with high luminance and fast response; transflective NLT technology; and adaptive design technology that meet a variety of specialized needs for the flat panel display markets. NEC LCD Technologies' worldwide support includes sales and marketing affiliates NEC Electronics America, Inc. (www.necelam.com) and NEC Electronics Europe (www.ee.nec.de) that offer specialized display solutions to their respective markets. NEC LCD Technologies employs approximately 1,200 people worldwide and offers one of the broadest product portfolios for the medical, factory automation, test and measurement, entertainment, kiosk, POS and ATM markets. Additional information can be found at nec-lcd.com/english/

More from Controls & Controllers