QVGA LCD Display Module features smart graphics processor.
Press Release Summary: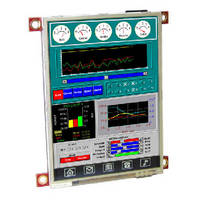 Featuring 3.2 in., 240 x 320 pixel, 65K color TFT-LCD panel with integrated 4-wire resistive touch panel, Model uLCD-32PT uses 5-pin connection to interface to host device. Unit supports external SD/µSD memory cards for storing images, video clips, and general-purpose data logging. Operating from 4.0-5.0 V, module includes on-board audio amplifier/speaker and PWM audio pin that supports FAT16 audio WAV files. Serial interface lets users add graphics display to microprocessor-based products.
---
Original Press Release:

Saelig Announces New Intelligent 3.2" LCD Display Modules



Pittsford, NY, USA - Saelig Company, Inc. (Saelig) (www.saelig.com) announces the availability of uLCD-32PT, a 3.2" QVGA TFT with 65K LCD TFT display with integrated touch screen and smart graphics processor. With a serial interface, users can now easily add graphics displays to microprocessor-based products. uLCD-32PT offers easy access to flexible embedded graphics, text, image, animation and countless more features, all built in to uLCD-32PT. All screen related functions are sent using a simple protocol via a serial interface.

uLCD-32PT is designed to work straight out-of-the-box, simplify development, and significantly reduce cost and time-to-market. uLCD-32PT 's display is a high quality, low cost 3.2", 240 x 320 pixel, 65k color TFT-LCD panel with an integrated 4-wire resistive touch-panel. A simple 5-pin connection provides an interface to almost any host device and supports external SD/µSD memory cards for storing images, video clips, fonts and general purpose data logging. Additionally, the module includes a dedicated PWM audio pin that supports FAT16 audio WAV files and complex sound generation, an on-board audio amplifier and speaker, 2 x 30 pin headers for I/O expansion, 4.0V to 5.0V range operation and support for all available Windows fonts and characters.

Two versions of uLCD-32PT are available: uLCD-32PT(GFX) for standalone applications, and uLCD-32PT(SGC) for serial-driven, microprocessor-based devices, allowing the display module to be used as a slave device where the external host sends all screen-related functions using a simple serial protocol. PICASO-GFX2 chip embedded in the uLCD-32PT(GFX) display allows users to write applications using 4DGL, the high level 4D Graphics Language, which has syntax similar to popular languages such as BASIC, C and Pascal. 4DGL enables users to develop applications that run stand-alone on the display and gives access to additional features of the PICASO-GFX2 graphics chip. uLCD-32PT(GFX) includes 15K bytes of flash memory for user code storage and 14K bytes of SRAM for user variables, 13 GPIO pins as well as a master I2C interface and 8 x 16 bit timers with 1 millisecond resolution. 4DGL-Workshop3 - a comprehensive IDE that includes editor, compiler, linker and downloader is provided free of charge for developing complete 4DGL applications. Four snap-off mounting tabs with 3mm holes provide mechanical support.

Applications for uLCD-32PT include general purpose embedded graphics, electronic gauges and meters, test and measurement instrumentation, industrial control and robotics, GPS navigation systems, medical instrumentation, smart-home automation, security and access-control systems, gaming equipment etc.

Made in Australia by 4D Systems, a rapidly-growing embedded products specialist, uLCD-32PT is available in North American from Saelig Co. Inc., with units starting at $79.00 USD (qty 1). For detailed specifications, free technical assistance, or additional information, please contact 1-888-7SAELIG, via email: info@saelig.com, or visit www.saelig.com.

Contact Information

email: info@saelig.com

phone / fax: 585-385-1750 / 585-385-1768

web: www.saelig.com

More from Test & Measurement