QUORAL® Jerry Cans offer alternative to glass and metal.
Press Release Summary: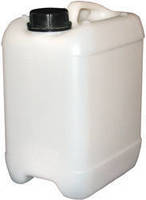 Baritainer® Jerry Cans provide alternative for packaging, storing, and transporting chemicals that usually require glass, metal, fluorinated HDPE, or other single-barrier containers or polyester/PVC containers. Constructed of QUORAL® and HDPE, cans can transport range of solvents, foodstuffs, and other industry products. UN X rated Jerry Can comes with black screw closure and DIN 50 or 60 closure neck with tamper-evident system.
---
Original Press Release:

NEW Baritainer® Jerry Cans Save Cost vs Glass and Metal



NEW Baritainer® Jerry Cans offer an alternative solution for packaging, storing & transporting chemicals that usually require glass, metal, fluorinated HDPE or other single barrier containers.

KEY APPLICATIONS: QUORAL® (patent pending) based Baritainer Jerry Cans can be used to safely transport solvents such as household chemicals, industrial & laboratory chemicals, cleaning solvents, adhesives, wood preservatives, automotive additives, additives in the agricultural, automotive photo chemical sector. They can be used to safely transport foodstuffs such as flavors, edible oils, essential oils and other industry products such as cosmetics and fragrances. Baritainer Jerry Cans offer an attractive and environmentally friendly alternative to glass, metal containers, coextruded or fluorinated containers and other single-layer barrier containers, polyester and PVC containers.

SPECIFICATIONS: UN X rated Jerry Can with black screw closure. Closure neck: DIN 50 or DIN 60 with tamper-evident system

COMPOSITION: Jerry Can: Natural, QUORAL® (pat. pend.) and HDPE - Screw cap: Black HDPE. Screw cap Inner liner: Alveolit TA SF cross link polyethylene

For further information on this exciting new product line please phone 800-828-6595 or view the products on our website: http://www.dynalabcorp.com/news_Baritainer.asp

Related