Quigley Motor Company Now Provides Drive Shaft Service to Auto & Truck Service Facilities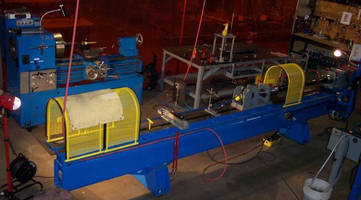 Quigley Motor Company, Inc in Manchester, Pa can now provide convenient and reliable drive shaft service to all auto and truck repair facilities. Our modern state of the art equipment and highly trained personnel can supply dependable proven service for most cars, light and medium duty trucks, up to and including the 1480 series. We offer service on a maximum length of 72" for a 1-piece drive shaft and 150" for a 2-piece shaft. Quigley is the world leader in 4x4 Van manufacturing, assuring your drive shafts meet the Quigley Quality standard to which our customers are accustomed.
Drive Shaft Services Provided:

o Balancing/Straightening
o Repair
o Rebuilding
o Custom Manufacturing

Pick-up and delivery is available in our local area for a nominal fee. We can ship outside of our delivery area via FEDEX or UPS for an additional shipping and handling fee. Local shipping areas include Hanover, Harrisburg, Lancaster and York areas.
ABOUT QUIGLEY MOTOR CO., INC.

Quigley Motor Company, located in Manchester PA, is the oldest, largest and most successful manufacturer of high quality four-wheel-drive conversions for full sized vans and "cut-aways" in the world. It has sold over 15,000 of its unique four-wheel drive systems for vans. Quigley also manufactures and installs right-hand drive conversion systems for full size vans.

When William "Bill" Quigley opened for business in 1966, his primary source of income came from new and used truck sales and rentals. As his reputation and business began to grow in the early 1970s, he began to sell recreational vehicles, too.

Initially, the lion's share of Quigley's business was with the non-commercial buyer; the outdoor sportsman, the boater and the weekend car racer. But soon the virtues of the Quigley product line became known to a new buyer: The commercial and ambulance markets. In addition to providing 4x4 systems on platforms for ambulances and mobile telecommunications trucks, Quigley has also provided vehicles to some of the most famous names in American business: Fed-Ex, AT&T and Halliburton Service Corporation.

There are also Quigley "Quadra-Version" vans serving with the ATF , Secret Service and U.S. Military. You will also find Quigley 4x4 vans in the Arctic and Antarctica.
In the 90's Quigley Motor Company has continued its transformation from a small "car lot" into a vehicle manufacturer with global sales and world class capabilities. And the capabilities of Quigley's "Quadra-Version" system on a full-sized van positions the Quigley as the SUV of choice for all seasons and all terrains.

The "Quadra-Version" conversion, however, is only part of the Quigley story. In the late 1980's Quigley again pioneered an un-tapped market segment, creating right-hand drive for Chevrolet and GMC trucks, including the Suburban and Tahoe vehicles. General Motors trucks and SUV's equipped with Quigley's right-hand drive conversion have attracted customers in the United Kingdom, Africa and the Far East.

Today, Quigley Motor Company is an approved up-fitter for General Motors and is also a fully approved Ford Motor Company ship-thru account and benefits from access to the Ford, and General Motors shipping and distribution network. In fact, the Quigley "Quadra-Version" system can be ordered through any authorized Chevrolet, GMC or Ford dealer in the United States.

For the new millennium Quigley Motor Company has once again shown its leadership with its development of new 4x4 systems.

In 2001 came the first "Trailmaker" Torsion Bar Independent Front Suspension (IFS) system for the full size Chevrolet/GMC vans. This new IFS suspension, while providing the off road capabilities, has also made Quigley Motor Company famous providing the added benefit of no increase in vehicle height, improved road manners, better ride and handling characteristics and lower center of gravity. In 2002 Quigley Motor Company also designed the first 4x4 system for Fords new E-550 cutaway chassis.

Located in a new 72,000 square foot facility in Manchester Pennsylvania, the members of the Quigley team are aggressively positioning themselves for the move into the 21st century with two high quality, real-world proven product lines: The Quigley 4x4 "Quadra-Version" conversion and the Quigley right-hand drive conversion.


More from Material Handling & Storage