Quiet Pump Expands Rexroth Line of Reduced-Noise Hydraulics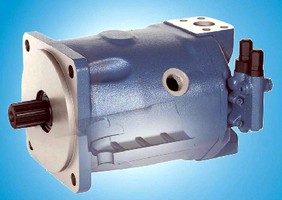 The A10VSO Series 32 is quieter and reduces pressure pulsation

A10VSO Series 32 axial piston pump complements the Rexroth family of quiet hydraulic power units and valves.

(Bethlehem, PA - www.boschrexroth-us.com) The A10VSO Series 32 medium-pressure axial piston pump from Bosch Rexroth is specifically made to help reduce noise in stationary hydraulic systems.

The A10VSO Series 32 pump was designed with computer-aided analysis to reduce noise and vibration levels while still providing a long service life. In addition to being quieter, the pump decreases pressure pulsation while offering improved cavitation characteristics.

The Rexroth reduced-noise axial piston pump complements the company's line of quiet power units and valves, thereby helping to cut out noise within an entire fluid power system.

Visit www.boschrexroth-us.com or call 800-REXROTH for more information on the A10VSO Series 32.

Bosch Rexroth AG, part of the Bosch Group, achieved sales of approximately $5.7 billion (4.6 billion Euro) in 2005 with over 28,200 employees. Under the brand name of Rexroth the company offers all drive and control technologies, from mechanics, hydraulics and pneumatics to electronics and associated service. Over 500,000 customers worldwide utilize Rexroth's unique technological know-how to implement their innovative and future-oriented systems and machine concepts. The global player, represented in over 80 countries, is an extensive supplier of components and systems for industrial and factory automation and mobile applications. For more information visit www.boschrexroth-us.com.

More from Agricultural & Farming Products