Quiet, Efficient Duplex Scanner helps enhance customer service.
Press Release Summary: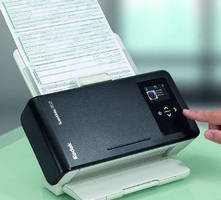 Accommodating complex document capture and management needs in business environments, KODAK SCANMATE i1150 offers transaction-based scanning, with 40 ppm rate for first 10 pages and 25 ppm thereafter, as well as integrated bar code recognition engine. Product can scan in black and white, grayscale, and color, and is designed for use in customer-facing situations where documents and ID cards need to be scanned as part of business process. Icon-based color LCD interface facilitates operation.
---
Original Press Release:

Quiet, Efficient and High-Performing KODAK SCANMATE i1150 Scanner Helps Employees Enhance Customer Service



LONDON -- To address complex document capture and management needs in transaction-based business environments, Kodak Alaris announces today the new duplex KODAK SCANMATE i1150 Scanner.



The launch follows careful observation and understanding of customers' needs reflecting Kodak Alaris' commitment to introduce targeted solutions and directly cater for specific business needs. The new scanner offers transaction-based scanning along with comprehensive and integrated barcode recognition capability - the first time Kodak Alaris has included this in its document scanners.



Turbo charge customer engagement using Transaction Mode



The KODAK SCANMATE i1150 is specifically designed for use in customer-facing situations where an employee needs to quickly and efficiently scan documents and ID cards as part of a business process, so as to reduce waiting times and enhance customer satisfaction. This could be in a retail, bank, insurance, medical or government context.



Recognising that the majority of customer transactions involve scanning 10 or less documents, the KODAK SCANMATE i1150 features a special 'transaction mode' which boosts the scanner's performance by 60% for the first 10 pages - equating to 40 pages per minutes [ppm - before it resumes its normal processing mode of 25 ppm. This avoids the scanner becoming a bottleneck in the office and ensures an organisation can increase the number of customers seen. The i1150 has a recommended daily volume of 3,00o pages and scans in black and white, grayscale and colour.



Hauke Fast, Kodak Alaris' EAMER product marketing manager says, "Transaction capture is the fastest growing segment in the document imaging industry growing 27% last year[1 driven by organisations seeking to operate profitability in multi-regulatory competitive environments where customer service is key. Keeping focused on the customer is a challenge. Our new i1150 scanners help staff do this by allowing them to scan quickly and simply without them losing focus on the person they're serving."



Introducing integrated barcode recognition capability



The new scanner is designed for front office usage and come with an integrated bar code recognition engine supporting nine different barcode types so that documentation can easily be filed or incorporated into workflows or line of business applications. This also saves customers money and is the first time this has been comprehensively provided in a Kodak Alaris scanner.



Designed for ease of use



The new SCANMATE i1150 Scanner provides unique features such as a simple customizable icon-based colour LCD interface which helps quickly identify where to send captured images. The built-in card ledge on the front of the scanner helps keep track of documents with a small footprint and extremely quiet operation ensuring that users don't have to interrupt customer conversations while scanning.



The SCANMATE i1150 is supported by a wide range of Kodak Alaris software including one-button Smart Touch functionality, which allows users to start business processes and scan to various predefined locations, all without the need to even open an application on a PC. In addition, KODAK Capture Pro Software Limited Edition imaging software, a feature-rich batch scanning solution, is available for quick and easy document capture. KODAK Capture Pro Software Limited Edition includes barcode reading, drag-and-drop OCR for improved indexing, full text OCR to create searchable PDFs, PDF/A support, batch separation, and direct connectivity into Microsoft SharePoint 2013.



For remote monitoring and maintenance, the new SCANMATE i1150 Scanner works seamlessly with optional KODAK Asset Management Software. This web-based dashboard makes monitoring a scanner's status and performance simple. The SCANMATE i1150 Scanner also supports additional accessories for greater versatility and ease of use, including the KODAK Legal Size [A4 Flatbed Accessory and the KODAK A3 Size Flatbed Accessory.



Pricing and availability



The new KODAK SCANMATE i1150 Scanner is available today with a list price of EUR495. It comes with a free three-year advance unit replacement warranty[2 - guaranteed within four business days - upgradeable to next day delivery for EUR99 for those customers where scanning is absolutely business critical.



The KODAK SCANMATE i1150 Scanner is compatible with TWAIN, ISIS-based scanning applications and supports all current Windows desktop and server operating systems, as well as LINUX.



For more information, please visit http://www.kodakalaris.com/go/scanmatei1150News



About Kodak Alaris' Document Imaging Division

Kodak Alaris' Document Imaging solutions enable customers to capture and consolidate data from digital and paper sources, understand and extract valuable insight from the contents, and deliver the right information to the right people at the right time. Our offerings include award-winning scanners, capture and information management software, an expanding range of professional services and industry leading service and support. With customers ranging from small offices to global operations, Kodak Alaris delivers superior systems and solutions to automate business processes, enhance customer interactions and enable better business decisions.



For more information, please visit kodakalaris.com/go/dinews. Follow us on Twitter at twitter.com/kodakdi and visit our blog at infooverdrive.com/



The Kodak trademark and trade dress are used under license from Eastman Kodak Company.



1. Source: Harvey Spencer Associates



2. Geographical limitations apply



Media Contact

Tom Herbst

Kodak Alaris EAMER PR lead

+44-(0)7768-145571 or +44(0)207-274-9937

tom@tomherbstpr.co.uk



More from HVAC