Quiet 92 mm CPU Coolers employ PWM technology.
Press Release Summary: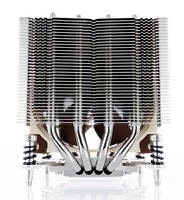 Occupying 95 x 95 mm footprint, 9 cm asymmetrical NH-U9S and 110 mm NH-D9L are retail models that offer PWM support for automatic fan speed control and respectively feature 5 and 4 heat pipes. Model NH-D9DX i4 3U targets Intel® Xeon® LGA2011-based workstations and servers, and all models use NF-A9 PWM 92 mm fan for quiet cooling. While same heatsink as NH-D9L, NH-D9DX i4 3U comes with LGA2011 mounting for both Square ILM and Narrow ILM Xeon platforms as well as support for LGA13x6.
---
Original Press Release:

Noctua Presents Three New 92mm Premium Coolers



Vienna - Noctua today announced three new 92mm class CPU coolers. Whereas the NH-U9S and NH-D9L are retail models that suceed the popular NH-U9B SE2, the NH-D9DX i4 3U targets Intel Xeon LGA2011 based workstations and servers. All three models use the recently announced NF-A9 PWM 92mm premium fan to achieve class-leading quiet cooling performance.



"Providing a great balance between high efficiency and compact size, the NH-U9B SE2 is still one of our most popular models", says Mag. Roland Mossig (Noctua CEO). "The NH-U9S and NH-D9L stay true to this proven formula but now offer even better performance, better compatibility and PWM support for automatic fan speed control."



Continuing the renowned legacy of Noctua's award-winning NH-U9 series, the NH-U9S is a premium quality quiet CPU cooler in classic 9cm size. Its asymmetrical design with 5 heatpipes not only provides even better cooling performance than the previous generation but also improves  compatibility: Thanks to its 95x95mm footprint, the NH-U9S clears the RAM and PCIe slots on all Intel and most AMD based mainboards, including µATX and ITX.



The NH-D9L features 4 heatpipes and is 15mm lower than classic 9cm coolers such as the NH-U9 series (110mm vs. 125mm), which doesn't only guarantee full 3U compliance but also makes the NH-D9L ideal for compact HTPC and Small Form Factor cases that have airflow paths parallel to the mainboard. Like the NH-U9S, the NH-D9L has a 95x95mm footprint and thus provides 100% RAM and PCIe compatibility on all Intel and most AMD based mainboards.



The NH-D9DX i4 3U is the same heatsink as the NH-D9L but comes with LGA2011 mounting for both Square ILM and Narrow ILM Xeon platforms as well as support for LGA13x6.



"Our DX i4 series are renowned among builders of LGA2011 based Intel Xeon systems and one of the few available quiet cooling solutions for Narrow ILM platforms", explains Mag. Roland Mossig (Noctua CEO). "With the new NH-D9DX i4 3U model, we can now offer a cooler for 3U cases that offers similar performance as the previous 4U model NH-U9DX i4."



All three new models come with the new NF-A9 PWM for further improved quiet cooling performance. Topped off with the trusted, pro-grade SecuFirm2™ mounting systems, Noctua's proven NT-H1 thermal compound and full 6 years manufacturer's warranty, the NH-U9S, NH-D9L and NH-D9DX i4 3U are premium grade solutions through and through.



Prices and availability

All three models are currently shipping and will be available shortly. The manufacturer suggested retail prices are as follows:

NH-U9S: EUR 54.90 / USD 59.90

NH-D9L: EUR 49.90 / USD 56.90

NH-D9DX i4 3U: EUR 56.90 / USD 59.90



About Noctua

Designed in Austria, Noctua's premium cooling components are internationally renowned for their superb quietness, exceptional performance and thoroughgoing quality. Having received more than 3000 awards and recommendations from leading hardware websites and magazines, Noctua's fans and heatsinks are chosen by more than a hundred thousand satisfied customers around the globe.



Links

Press-Release: http://www.noctua.at/main.php?show=news_list&news_id=97&lng=en

Video NH-U9S: http://youtu.be/4PzKvuAkb1A

Video NH-D9L: http://youtu.be/Uj8fn03yG_0

Photos NH-U9S: http://www.noctua.at/inc/imageviewer.php?item=105

Photos NH-D9L: http://www.noctua.at/inc/imageviewer.php?item=106

Photos NH-D9DX i4 3U: http://www.noctua.at/inc/imageviewer.php?item=107

Details NH-U9S: http://www.noctua.at/main.php?show=productview&products_id=105

Details NH-D9L: http://www.noctua.at/main.php?show=productview&products_id=106

Details NH-D9DX i4 3U: http://www.noctua.at/main.php?show=productview&products_id=107

More from Electronic Components & Devices