QuickBridge Takes Crane Bridge Electrification to the Next Level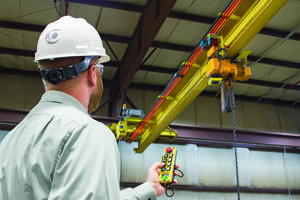 QuickBridge™ is a new concept in bridge electrification to give your overhead cranes a clean, contemporary look. QuickBridge is a space-efficient alternative to traditional cable festoon and a better solution than cable chain systems. QuickBridge features conductor bar for bridge power and wireless radio remote controls for hoist control. This combination supplies crane bridge electrification that is efficient, safe, rugged, and reliable.
For decades, C-track cable festoons have been the only solution available for standard overhead crane bridge electrification. However, some customers desire a more space-efficient system and have used cable chains for this purpose. We responded to this market need and decided to offer a sleeker system that marries conductor bar with radio remote controls. Earlier this year we introduced "QuickBridge" - a product bundle that includes both products in a kit form to make ordering easy.
QuickBridge is preferred over cable chains, since chain systems have hundreds of moving parts that can wear out or become jammed. Cable chains are hard to service as well. QuickBridge increases reliability, reduces installation time, and maximizes workspace. Because it utilizes the conductor bar, which is highly reliable and easy to service, QuickBridge eliminates the need to monitor cable wear and replace cables. This also increases bridge travel and overhead clearance and reduces installation time and material costs. Radio control replaces pendant control which allows the user to operate the crane standing away from the load, providing freedom of movement for the operator.
If you want increased reliability, reduced installation time, and maximized workspace, try the QuickBridge method of crane bridge electrification.