Quick Release Pins are protected from accidental triggering.
Press Release Summary: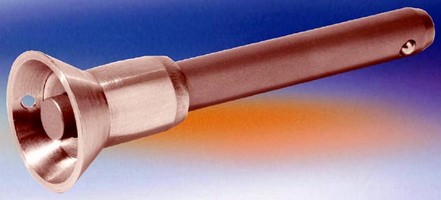 Offered in 2- or 4-ball design, LG Series DZUS® Lockwell® pins feature Y-handle design and cupped recess to protect against accidental triggering of pushbutton pin release. Flared handle also provides grip for pin insertion or removal. Vibration-resistance helps maintain positive grip of pin in installed position while single-acting pin design facilitates tool-free insertion or removal with pushbutton actuation. Products are made to order for fit, strength, and performance.
---
Original Press Release:

New Y-Handle Design for Quick-Access Pins from Southco Provides Added Protection Against Accidental Release



Concordville, PA, September 15, 2006-A new Y-handle design for the LG Series DZUS® Lockwell® quick release pins available from Southco® features a cupped recess to protect against accidental triggering of the pushbutton that releases the pin. The flared handle also provides a convenient grip for pin insertion or removal.

Because the protected pushbutton design provides an added safeguard without inhibiting ease of use, it is ideal for frequently accessed applications in high-traffic areas or situations where accidental release could be particularly dangerous. Vibration-resistant performance also helps to maintain the positive grip of the pin in the installed position. These pins are a quick, dependable alternative to nuts and bolts, cotter pins or lynch pins for locating, positioning or retaining objects in a variety of applications-aerospace, marine rigging, transportation (trucks, off-highway, railway, towing, motor sports, etc.), medical or industrial equipment, lighting and fitness equipment.

The single-acting design of the pin allows for quick and convenient tool-free insertion or removal with a simple press on the pushbutton. Pressing the pushbutton allows the detent balls at the end of the pin to retract into the pin housing so that the pin may be inserted or removed from its mounting hole easily. When that pushbutton is released, a spring-loaded shaft within the pin forces the detent balls out, creating a positive locking action that retains the pin firmly in its mounted position. Users can choose between a two-ball design and the four-ball design for increased tension load capability.

The new Y-handle is the latest of seven handle designs in the broad range of LG Series quick release pins. Like all pins in that series, it is available in diameters from 3/16" through 1" and is manufactured to custom lengths in .001" increments.

Whether manufactured as commercial grade, or produced to aerospace/military standards, all pins are made to order, so they can be specified for the unique fit, strength, and performance requirements of the application. Material options including stainless steel and 4130 alloy steel provide robust performance with a high strength-to-weight ratio for a wide range of application environments. Tension load capability ranges from 200 lbs. to 7,120 lbs., with shear strength ranging from 4,600 lbs. to 147,000 lbs., depending on the size and construction material of the pins.

The new Y-handle pins and all other LG Series pins can be equipped with a variety of accessories to satisfy additional needs. Chain-style or cable-style lanyards keep pins safely tethered to prevent pin loss or damage to operating equipment caused by a dropped pin. Mating receptacles are available to provide a positive locking point for blind-hole applications or where the mating surface does not provide sufficient hardness for positive engagement of the detent balls. And colored streamers are available to flag critical applications.

For more information, visit Southco's website at southco.com; e-mail their 24/7 customer service department at info@southco.com; call 610-459-4000; or fax to 610-459-4012.

Southco is a leading global provider of engineered access solutions, including latches, locks, captive fasteners, hinges, handles, and other accessories for applications in the marine, networking, telecommunications, computer, automotive, aerospace, mass transit, off-highway/construction, RV/caravan, industrial machinery and HVAC industries.

Southco is strongly focused on customized engineering solutions and global support for its key customers. The company aspires to be a virtual engineering center for its customers' engineered-access solutions and is committed to providing outstanding quality and overall satisfaction. Southco's promise to its customers is to connect, create and innovate to provide the best solution for every access engineering problem.

SOUTHCO CONTACT: Dale Clouser
610-361-6551
dclouser@southco.com

Related