Quick-Disconnect Couplings suit high-flow chemical handling.
Press Release Summary: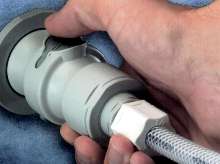 Series NSH non-spill, corrosion-resistant, pressure-balanced couplings feature all-plastic, metal-free, and spring-free flow path. Integral termination fittings eliminate potential leak path. Couplings, with 3.0 Cv capacity, withstand operating pressures from vacuum to 120 psig and temperatures from 32-120°F. Terminations include 3/8 and 1/2 in. OD compression, 3/8 and 1/2 in. ID hose barb, 3/8 in male NPT thread, 3/8 in. male BSPT thread, and 3/8 in. female NPT thread.
---
Original Press Release:

CPC Launches First Economical High-Flow Non-Spill Quick Disconnnect Coupling


The patented NSH Series Coupling is the world's first non-spill, high-flow, corrosion-resistant, pressure-balanced quick disconnect coupling and it's available at a very competitive price.

ST. PAUL -- Colder Products' (CPC) new, patented NSH Series Couplings provide the first lightweight, durable and economical alternative for low-pressure applications where chemical resistance and non-spill disconnects are critical requirements. Until now, the only choices were expensive, heavy, metal non-spill couplings that were designed for high-pressure hydraulic
applications. These new couplings are ideal for high-flow chemical handling and many other fluid media applications where an all-plastic flow path and non-spill design is needed. The customer can now replace costly ball valves and spill-prone fittings, with a more compact and less expensive quick disconnect coupling.

"These couplings solve a lot of problems, and provide truly worry-free tubing connections," said Patrick Williams, CPC's Market & Product Planning Manager. "Until now, too many chemical
media lines needed to be closed, hard-plumbed systems, but our new NSH couplings change that.

By virtually eliminating the risk of dangerous spills typically associated with open systems, safety is improved and maintenance and downtime costs are reduced dramatically. The NSH Series
couplings make this possible because they're the first high peformance, high quality, affordable, corrosion-resistant, non-spill couplings on the market."

The NSH Series Couplings are based on CPC's award winning ChemQuik(TM) Series high purity couplings and feature a pressure-balanced, non-spill design, so fluid lines can be instantly
disconnected under pressure and hazardous spills are virtually eliminated. An all plastic, 100% metal-free and spring-free flow path results in high flow, low turbulence and no corrosion. The
ease-of-use and single-handed operation make fluid line connections a snap. The integral termination fittings eliminate the assembly hassle and potential leak path associated with typical couplings while reducing additional cost associated with those components. The unique, field installed panel mount adapter accessory can turn any coupling Body (Socket) or Insert (Plug) into a sealing bulkhead solution without repairing additional inventory.

There are a variety uses for the new NSH Series, and immediate opportunities exist in battery filling, chemical delivery systems, dry cleaning equipment, industry laundry, car wash service, and high flow fluid delivery. In fact, anywhere that aggressive chemicals are transferred via plastic tubing or anywhere spillage of any liquid is not desired.

The NSH Series can withstand operating pressures from vacuum to 120 psig (8.3 bar) and temperatures from 32 to 120°F / 0 to 49°C. Terminations include 3/8" & 1/2" OD compression, 3/8" & 1/2" ID hose barb, 3/8" male NPT thread, 3/8" male BSPT thread, and 3/8" female NPT thread. Mounting options include in-line, pipe thread and sealing panel mount. Industry leading capacity (3.0 Cv) facilitates high flow and low turbulence, all in a compact package.

CPC's quality system is ISO 9001-certified and CPC couplings have a worldwide reputation for repeatable, leak-free connections. For more information, contact:

Colder Products Company, 1001 Westgate Drive, St. Paul, MN 55114. Toll-free (800) 444-2474 Phone (651) 645-0091. Fax (651) 645-5404. Email: info@colder.com Web: www.colder.com

Please forward information requests to: Rich Herpers at Colder Products Company. Email: rich.herpers@colder.com. Phone: (651) 645-0091. Fax (651) 645-5404.

More from Construction Equipment and Supplies