Quick Change System is available with rotary feed-through.
Press Release Summary: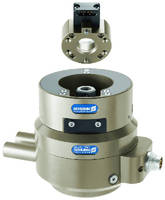 Featuring six 3/2-way screw-in valves that replace complete valve terminal, SWS-I-11 is available with rotary feed-through DDF-V that comes in 3 versions to fit several robot flanges - ISO-31.5, ISO-40, ISO-50 - and does not require external plug for quick-change head. Rotary feed-through has all-internal electrical contacts and eliminates interference of external cables for SWS-I-11, which requires only one line for compressed air supply.
---
Original Press Release:

Rotary Feed-Through DDF-V for SWS-I 11



SCHUNK has developed the rotary feed-through DDF-V for its integrated quick-change system. As a result, the interference factor of external cables can be dispensed with in future. The SWS-I-11 already includes six 3/2-way screw-in valves that replace a complete valve terminal. This means that only a single line is required for the compressed air supply because grippers and other tools are controlled by the integrated valves. Consequently, the SWS-I-11 requires a rotary feed-through which, like the DDF-V, only has one air connection but 14 electrical contacts for controlling the valves. Due to only one air duct, the height of the DDF-V has a very compact design. Fewer air ducts also mean fewer seals, therefore the energy required for overcoming the seal friction is significantly lower and the DDF-V requires less motor force.

The DDF-V is available in three different versions that fit the robot flanges ISO-31,5, ISO-40 and ISO-50. None of the three variants require an external plug for the quick-change head any longer, because the electrical contacts are internal.

More from Material Handling & Storage