Quick Change Pallet System offers 40,000 N pull-down force.
Press Release Summary: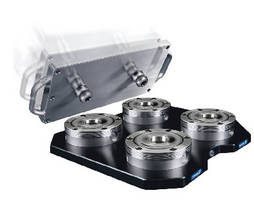 Featuring hardened stainless steel base body, clamping pin, and clamping slide, VERO-S Module clamps workpieces, pallets, clamping stations, existing fixtures, and tombstones with one or more clamping pins. System features radial-aligned clamping slides that pull in clamping pin and lock it. Exact positioning is accomplished via short taper and radial location is done via diamond pin, assuring repeat accuracy of less than 0.0002 in.
---
Original Press Release:

SCHUNK Solutions at HOUSTEX 2011



Increased demand for large size parts such as gears and turbine plates, mostly coming from the energy sector, requires machine shops to reinvestigate their clamping methods. Machine tool development kept up with the demand; however, the clamping technology is still mostly manual which is time consuming and requires a lot of maintenance. During turning of clamping diameters of up to 2.000 mm there is a tendency to choose more flexible and efficient 3- or 6-jaw chucks. The reason for that is simple: Even large components need to be very precise, which can be only achieved by using corresponding precision lathe chucks. In the past, large precision chucks were too expensive. Due to standardization of large size chucks SCHUNK can now offer very competitively priced solutions for this industry. At HOUSTEX 2011 SCHUNK will display a broad range of lathe chucks.

Booth highlights at HOUSTEX 2011:

Pneumatic Power Chuck ROTA TB

The technology of the ROTA TB self-contained power chuck with fast and extended stroke (LH) is based on a chuck piston with two different gear transmission ratios. Therefore, the chuck has low air consumption, a large and fast jaw stroke combined with a maximum clamping force. Due to the very large thru-hole the ROTA TB is suitable for the machining of large pipes. It is available in the sizes 400 mm (15.75") to 1000 mm (39.37") with clamping forces up to 420 kN (95000 lbf).

New stainless steel quick change system VERO-S

All functional components of the new VERO-S module, such as base body, clamping pin, and clamping slide, are made of hardened Stainless Steel. This increases the modules life, reliability, and reduces maintenance. VERO-S clamps workpieces, pallets, clamping stations, existing fixtures, and tombstones with one or more clamping pins. The radial aligned clamping slides of the quick-change pallet system pulls in the clamping pin and locks it. Exact positioning is accomplished via a short taper. Radial location is done via a diamond pin. This assures a repeat accuracy of less than 5 microns (0.0002"). Workpieces can be transferred from machine to machine or to a CMM accurately and seamlessly on the fly.

About SCHUNK:

SCHUNK is a family owned operation and a global player in one. Totaling more than 60 years of experience, SCHUNK is the leading worldwide manufacturer of toolholding components, workholding systems, and automation components. With a reputation for high quality products, absolute precision, and continuous innovation, SCHUNK is a reliable partner. For more information, visit www.schunk.com

Media Contact

Veronika Gaertner

Marketing Coordinator

919-767-2010

[email protected]

Technical Contact

Brad Evans

Stationary Workholding Product Manager

919-767-1987

[email protected]