Quartz IR Heating Elements range from 500-4,000 W.
Press Release Summary: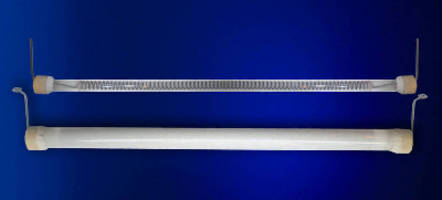 Available in 120, 208, and 240 V models, Quartz Infrared Heating Elements have heavy wall quartz sheath and ceramic insulators that provide positive electrical insulation. Elements are capable of reaching full heat in 40-65 sec and offer watt densities of 50 W/in². Suited for curing, baking, and drying applications, elements contain nickel chrome resistance wire with peak wavelength of 2.55 microns, max power density of 1.3-1.75 kW/ft², and heat/cool response time of 1-2 min.
---
Original Press Release:
Process Technology Introduces Quartz Infrared Heating Elements to New Industries
MENTOR, OHIO - Mentor-based firm Process Technology presents quartz infrared heating elements for use in new markets including, but not limited to: painting, powder coating, corrosion control, organic finishing, metalworking and automotive metal finishing. The CE certified quartz infrared heating elements offer a heavy wall quartz sheath and are available in sizes 500-4000 watts. 120, 208 and 240 voltages as well as other voltages are available. Ceramic insulators provide positive electrical insulation. The elements are used for curing, baking and drying applications and capable of reaching full heat in 40 to 65 seconds. Watt densities of 50 watts per square inch (8 w/cm2). The elements contain long-life nickel chrome resistance wire:
o Brightness: bright red to dull orange.
o Thermal shock resistance: excellent.
o Peak wavelength: 2.55 microns.
o Maximum power density: 1.3 to 1.75 kW/ft2.
o Watts per linear inch: 34-45.
o Conversion efficiency infrared energy: 40-62%.
o Response time heat/cool: 1 to 2 minutes.
o Color sensitivity: medium.
o Thermal shock resistance: excellent. Special wattages and lengths are available to fit most ovens/panels. Also offered in three electrical terminal styles, and temperature controls are available to be sized to match the heater. These elements are intended for horizontal installation only. Process Technology manufactures wet process heating and cooling equipment including electric immersion heaters, inline heaters, heat exchangers and temperature controls. The company was established in September 1978, with headquarters located in Mentor, Ohio. For further information on this product, please contact Steve Smith at 440-974-1300 or via email at ssmith@process-technology.com. For further editorial information or larger/higher resolution images, please contact Christine Venaleck at cvenaleck@process-technology.com or directly 440-974-3703.
More from Sensors, Monitors & Transducers