Quadrature Couplers come in flexible and non-flexible versions.
Press Release Summary: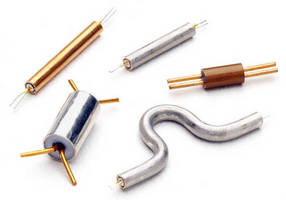 WIRELINE® (flexible) and WIREPAC® (non-flexible) quadrature couplers consist of one pair of wire center conductors surrounded by continuous dielectric insulator and shielded by drawn or extruded outer jacket. Construction combines physical attributes of semi-rigid coaxial cable and electrical performance of precision TEM mode parallel coupled line coupler. While WIRELINE comes in up to 5 ft (bulk) lengths, WIREPAC comes in lengths up to 8 in. with square, round, or flanged jackets.
---
Original Press Release:

WIRELINE® and WIREPAC® Quadrature Couplers Now Available from API Technologies



ORLANDO, FL -- API Technologies Corp. (NASDAQ:ATNY) ("API" or the "Company"), a trusted provider of RF/microwave, microelectronics, and security solutions for critical and high-reliability applications, announced today it is now offering design patented WIRELINE® and WIREPAC® quadrature couplers.



WIRELINE and WIREPAC couplers consist of a pair of wire center conductors surrounded by a continuous dielectric insulator and shielded by a drawn or extruded outer jacket. The resultant construction has the physical attributes of semi-rigid coaxial cable, and the electrical performance of a precision Transverse ElectroMagnetic (TEM) mode parallel coupled line coupler.



"Developed and patented under one of API's heritage brands, Sage Labs, these couplers offer independent quadrature output phases, low VSWR (Voltage Standing Wave Ratio), low insertion losses, and high directivity," said Rebecca McCarron,  API Technologies' Couplers Product Line Manager. "In addition, these Couplers feature flexibility, small surface volume, varied power handling, and the option of a narrow or octave band."



WIRELINE is flexible and available in bulk (5 ft. lengths) or cut and trimmed to customer specifications. It is RoHS compliant for tin and bare finishes. WIREPAC is not flexible, and offered in lengths up to 8 in. with square, round, or flanged jackets. Both products are ideally suited for commercial, aerospace, and industrial applications.



Bulk WIRELINE and custom orders for both cut and trimmed WIRELINE and WIREPAC are available through API's franchised distributor CPN/Denelex. Visit www.cpnelectronics.com or call +1 800 428-4844 for ordering information.



For technical information on WIRELINE and WIREPAC quadrature couplers and hybrids, or to learn more about the API Technologies' RF/Microwave & Microelectronics product line, contact API at +1 888 553-7531 or microwavesales@apitech.com.



API Technologies has a long heritage in the development and manufacturing of RF & Microwave components and systems for military, space and commercial applications. Product offerings include: Filters, High Power Amplifiers, Switched Filter Banks, Integrated Microwave Assemblies, Passive Components, and Microelectronic Modules. For more information, please visit micro.apitech.com.



About API Technologies Corp.

The Company, through its subsidiaries, designs, develops and manufactures electronic systems, subsystems, RF and secure solutions for technically demanding defense, aerospace and commercial applications. API Technologies' customers include many leading Fortune 500 companies. API Technologies trades on the NASDAQ under the symbol ATNY. For further information, please visit the company website at www.apitech.com.



For more information, please contact:

Melissa Fisher

Director, Public Relations

+1 908 546 3904

media@apitech.com

More from Thermal & Heating Equipment