Quadrature Clock Converter ICs help ease MCU burden.
Press Release Summary: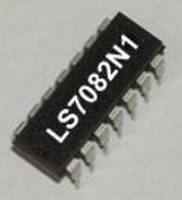 Models LS7082N1/LS7083N/LS7084N/LS7183N/LS7184N interface between incremental encoders and counting devices by converting encoder quadrature outputs into directional up/down clocks or clock and direction signals for driving counting devices. When interfaced with MCUs, devices can free up resources by relieving computational burden used for decoding quadrature signals. ICs offer x1, x2, or x4 frequency multiplication of quadrature clock as well as programmable output clock pulse width.
---
Original Press Release:
Quadrature Clock Converter Integrated Circuits
Melville, NY, October 9, 2009 - LSI/CSI announces the addition of five new devices to its family of Quadrature Clock Converter ICs. Designated LS7082N1, LS7083N, LS7084N, LS7183N and LS7184N, these devices are designed to interface between incremental encoders and counting devices by converting the encoder quadrature outputs into directional up/down clocks or clock and direction signals for driving the counting devices. When interfaced with microcontrollers, these devices can free up the resources of a microcontroller by relieving its computational burden used for decoding the quadrature signals. This is especially true at high speeds where the microcontroller becomes an unwieldy tool in performing the task effectively. According to Peter J. Visconti, LSI's VP of Sales & Marketing, besides their primary application in motion control systems, these devices can be used in a variety of systems requiring control with directional clocks. One such application is replacing a mechanical potentiometer with a precision control comprised of a Rotary Encoder, Quadrature Clock Converter and Digital Potentiometer (think audio volume control, etc). These new Quadrature Clock Converters are backward compatible with their respective older versions, LS7082N, LS7083, LS7084, LS7183 and LS7184, while providing an enhanced feature set. Features include:
x1, x2 or x4 frequency multiplication of the quadrature clock
Up-clock and down-clock outputs or clock and direction outputs
Programmable output clock pulse width
On-chip filtering of quadrature inputs for added reliability
Up to 16MHz output clock frequency
3V to 12V operation
TTL and CMOS compatibility LS7082N1 is available in 14-Pin DIP and SOIC packages. Unit price in 1k quantity is $1.45. LS7083N, LS7084N, LS7183N and LS7184N are available in 8-Pin DIP and SOIC Unit price in 1k quantity is $1.25. LSI's Data Sheet URL for these devices - www.lsicsi.com/pdfs/Data_Sheets/LS7082N1.pdf www.lsicsi.com/pdfs/Data_Sheets/LS7083N_LS7084N.pdf www.lsicsi.com/pdfs/Data_Sheets/LS7183N_LS7184N.pdf Data sheets for these devices, as well as all of our Standard Products, can be found by visiting our Web Site, www.lsicsi.com. For more information, including price quotes and technical assistance, please contact sales@lsicsi.com. ABOUT LSI COMPUTER SYSTEMS, INC. LSI Computer Systems, Inc. (LSI/CSI) began operations as the world's first fabless semiconductor company in 1969. Since its inception, LSI/CSI has been a leader in the design and production of affordable full custom and standard mixed signal, digital and analog integrated circuits. Using a broad array of process technologies, LSI/CSI has produced ICs that extend from the consumer and industrial marketplace to military and aerospace applications. The company's proven expertise and strong reputation have made LSI/CSI the IC provider of choice for leading manufacturers in a broad range of industries. For more information, please contact: LSI Computer Systems, Inc. 1235 Walt Whitman Road Melville, New York 11747 Phone: 631 271-0400 Fax: 631 271-0405 Visit: www.lsicsi.com Email: sales@lsicsi.com
More from Communication Systems & Equipment