Quadrant Epp Expands Quicksilver® Truck Liners to Off-Road Industry by Teaming Up with Komatsu®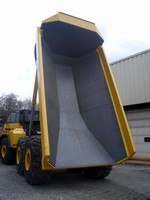 (Reading, PA, March 12, 2008) - Quicksilver® liners have achieved continued success due to the productivity advantage realized by over the road haulers. Expanding on that success, Quadrant EPP announced their intent to broaden use in this market to the off-road industry by teaming up with Komatsu. QuickSilver truck liners will be included as a factory option for the new HM400. This is a first for Komatsu® and the off-road truck industry. Quadrant's QuickSilver® was chosen due to its reputation for state of the art technology, highest quality material, consistent thickness, width and quality. This commit-ment from a manufacturer solidifies the value a Quicksilver® liner can provide a hauler.

About Quadrant EPP

Quadrant EPP's products range from UHMW polyethylene, nylon and acetal to ultra-high performance polymers that resist temperatures to over 800 °F (425 °C). The company's products are used for machined parts in food processing and packaging, semiconductor manufacturing, aerospace, electronics, chemical processing, life sciences, power generation and diverse industrial equipment. Quadrant EPP's products are supported by a global team of application development and technical service engineers.

Full support in evaluating designs and machining of parts is available from Quadrant Engineering Plastic Products' Technical Support Group. Learn more about Quadrant at www.quadrantplastics.com.

Acetron, CleanStat, Duraspin, Duratron, Erta, Ertalyte, Ertalene, Ertalon, Extreme Materials, Fluorosint, Ketron, MC, Monocast, Nylatron, Nylasteel, Polypenco, Proteus, Sanalite, Semitron, Techtron, TIVAR and Vibratuf are registered trademarks of the Quadrant group of companies.

Contact Name
kim Imes
E-mail: [email protected]

Kress Schwartz
Marketing Communications Team
Quadrant Engineering Plastic Products
2120 Fairmont Ave. PO Box 14235
Reading, PA 19612-4235
Tel: 800-366-0310, Fax: 800-366-0301.