Quad-Video PCoIP Host Card suits small form factor PCs.
Press Release Summary: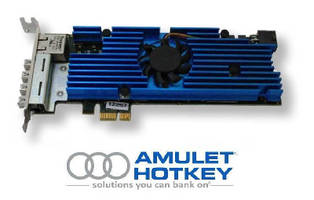 Based on Teradici's TERA2240 processor, Model DXH4 connects to any PCoIP zero client using PCoIP protocol and standard Ethernet connection. Card supports video resolutions up to and including 2,560 x 1,600 at 60 Hz CVTRB (WUXGA). Featuring half-height, half-length design, DXH4 is suitable for multi-monitor applications such as trading floors, control rooms, and CAD/CAM uses. Card has no impact on standard PC architecture and requires no additional drivers to be installed.
---
Original Press Release:

Amulet Hotkey® Release World's First Ultra-compact Quad-video PCoIP Host (half-height, half-length) for Small Form Factor and Rack Mounted Computers



Amulet Hotkey today announced the release of a new ultra compact (half-height, half-length), quad video head PCoIP host card for small form factor PC's. It provides all the benefits of the PCoIP protocol in a uniquely compact and cost effective package. It will appeal to a wide range of enterprise customers.



"The DXH4 is an exciting development that people told us couldn't be done," said Tony Hilliard, Group Sales Director at Amulet Hotkey. "Our clients asked for it and we delivered, it's great that we can combine innovation and customer demand in such a responsive way".



DXH4

"This is a unique product, perfect for multi-monitor applications such as trading floors, control rooms and CAD/CAM" says Keith Grundon, technical director and CTO. "I know it will be a great success for us."



For the first time, small form factor PCs can have a high-end, quad-monitor PCoIP host installed and then located remotely without compromising data security or graphics performance in any way. The DXH4 has no impact on the standard PC architecture and requires no additional drivers to be installed.



"Amulet Hotkey's new quad-video PCoIP host card for small form factor and rack mounted computers will appeal to IT administrators seeking to deliver secure access to video across multiple monitors while conserving precious server space," said Jayesh Shah, vice president of product management for Teradici. "Today's news is a testament to the company's commitment to delivering innovative PCoIP solutions that are well matched to the evolving IT requirements of its customers in diverse markets, including finance, CAD/CAM engineering, media and entertainment, and public sector.



The DXH4 is available now. For more details visit www.amulethotkey.com or contact our sales teams directly.



See the DXH4 at vmworld in Barcelona between 14th and 16th of October and learn about how it can be used to enhance VDI applications. Ask to see us at the Teradici stand.



About PCoIP

Zero Clients are simple, secure, stateless, cloud endpoints, perfect for accessing VMware Horizon View, VMware Horizon DaaS, Amazon WorkSpaces, and Remote Workstation environments. They contain no CPU, operating system, or local storage—just a chip that decodes the PCoIP transmissions and outputs pixels on the screen. Since no data is transmitted, users connect securely to their virtual environments. In addition to being the most secure endpoints available, Zero Clients are easy to deploy, manage, and operate. They offer higher performance, lower power consumption, support unified communications, and create a richly rewarding virtual computing experience, for both end users and IT managers.



About Amulet Hotkey

Our expertise allows enterprises to simplify and secure the desktop environment without compromise, moving desktop workstations to the data centre or cloud environment. Using our own Zero Client, PCoIP Host and KVM switching technology, we dramatically reduce desktop power consumption and heat generation, minimising cabling and clutter. In the data centre our solutions maximise space and facilitate central management of desktops, operating systems, policies and security.



Amulet Hotkey actively partners with many leading manufacturers of data centre, cloud and virtualisation technologies, and is instrumental in helping them bring to market solutions for VDI, virtualisation, GPU offload and PCoIP integration and acceleration.



The growing trend of cloud based services and virtualised environments has provided opportunities to create a truly flexible computing model, the so-called elastic compute architecture. Amulet Hotkey is a recognised leader in providing key enabling technologies in this environment.



About Teradici

Teradici PCoIP technology is deployed throughout virtual and cloud environments, in zero clients, hardware accelerators, standalone workstations and mobile devices. Simple, green, and cost-effective, the Teradici PCoIP virtual workspace architecture delivers a secure, high-definition, highly responsive computing experience.



Teradici customers benefit from a broad PCoIP ecosystem of innovative products and services. Our customers include Fortune 500 enterprises and institutions around the world, local and federal government agencies, and cloud and service providers.



Teradici was founded in 2004, and is headquartered in British Columbia.

More from Electrical Equipment & Systems