Quad-Channel H.264 Encoder offers <40 msec compression delay.
Press Release Summary: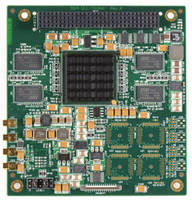 Targeting video distribution applications requiring near real-time user experience, H264ULL encodes 4 full frame rate, full resolution video inputs in parallel with latency of <40 msec on all channels with minimal CPU overhead. Glass-to-glass latency of less than 100 msec can be achieved when paired with H264ULL-Decoder. Featuring PCI-104 form factor, encoding engine can also provide stream duplication and offers such features as OSD Video Text Overlay and full control of video input.
---
Original Press Release:

AMP's New 4 Channel H.264 Encoder Boasts Less than 40ms Compression Delay



New York, USA and Cambridge, England – AMP today announced immediate availability of its lowest latency H.264 encoding engine in a PCI-104 form factor.



Targeted at video distribution applications which demand a near real-time user experience, the H264ULLencodes four full frame rate, full resolution video inputs in parallel with latency of less than 4oms on all channels and with minimal CPU overhead.  When paired with AMPs H264ULL-Decoder, glass-to-glass latency of less than 100ms is achieved.



Applications such as tele-op (teleoperation) of high speed vehicles and precise remote manipulation of objects across a low bandwidth communications channel require both highly efficient compression and short round-trip delay.  AMP's H264ULL-Encoder delivers both of these capabilities in an easy to integrate single PCI-104 card.



The H264ULL also provides stream duplication which is the ability for a single video input to be compressed into multiple streams with different characteristics.  This helps eliminate the need for trans-coding to support devices with different resolutions such as smartphone and flat panel displays.  Additional features provided by the H264ULL-Encoder include OSD Video Text Overlay, full control of video input, trans-sizing, trans-rating, and motion detection.



Bobby Gintz, Director of Applications Engineering at AMP, comments, "The H264ULL-Encoder achieves the gold standard in terms of quality, reliability, durability and application and we're delighted to be making it available to new and existing customers.



"The introduction of the H264ULL-Encoder is another example of our commitment to bringing forward industry leading products that solve actual problems and which can be adapted and deployed into the most demanding of environments with a minimum of delay."



To help designers rapidly integrate the ULL-Encoder into their systems,AMP provides drivers, SDKs and technical support for popular versions of Windows and Linux operating systems.



The H264ULL-Encoder is available in commercial and extended temperature versions for integration and deployment across the globe in the most demanding of military and commercial environments and applications including UGVs, UAV, submersible ROVs, rail transit, and surveillance military and harsh environment applications.



About Advanced Micro Peripherals (www.amp-usa.com)

• Advanced Micro Peripherals is a leading manufacturer of embedded video solutions. AMP offerings include High Definition and Standard Definition H.264 Compression, Capture and Overlay solutions.  AMP embedded video solutions are available in a wide range of embedded form factors including miniPCIe, miniPCI, PC/104-Plus, PC104e, CompactPCI, and PMC.



• Founded in 1993, AMP is focused on rugged, long-lifecycle embedded products with supporting software development kits.  From its UK Headquarters near Cambridge, and its US Headquarters in New York, AMP provides world class support and also offers quick turn Custom Design Services for specialized requirements.



For all enquiries, please contact:

Katrina Gilbride, Sales and Marketing Administrator at Advanced Micro Peripherals:

emailkgilbride@amp-usa.com.

Related