Quad-Channel DAQ/DSP Board leverages Virtex-6 FPGA technology.
Press Release Summary: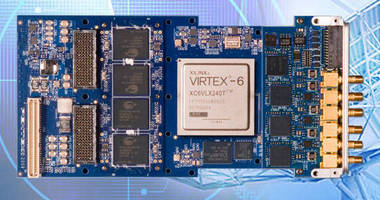 Used for high-performance data acquisition and signal processing, Cobalt(TM) 71660 features one back-end PCIe interface and 4 front-end 200 MSPS, 16-bit data acquisition channels capable of delivering nearly 90 dB of spurious free dynamic range. Targeting radar and communications applications, module incorporates Xilinx Virtex-6 FPGA with 2016 DSP slices to handle real-time signal processing and offers 4 independent memory banks that provide up 2 GB of DDR3 SDRAM or 32 MB of QDRII+ SRAM.
---
Original Press Release:

Pentek's Virtex-6 FPGA Cobalt Quad-Channel Data Acquisition and Processing Board Excels with 200 MSPS at 16 Bits

Configurable memory up to 2 GB DDR3 SDRAM or 32 MB QDRII+ SRAM

VITA 42.0 XMC and Gen 2 PCI Express support up to X8

Onboard Virtex-6 FPGA preconfigured with data acquisition and radar features

UPPER SADDLE RIVER, NJ-Pentek, Inc., today announced a new member of its Cobalt(TM) product family leveraging Xilinx Virtex-6 FPGAs for high-performance data acquisition and signal processing - the 71660 four-channel data acquisition module. The instrument targets radar and communications applications requiring next-generation performance and is a natural follow-on to Pentek's popular Virtex-5 FPGA 7150 board family, improving signal quality and tripling DSP resources.

"The 71660 delivers critical performance levels previously unattainable and provides an excellent technology-insertion path for existing applications," said Roger Hosking, vice president of Pentek. "Its four front-end data acquisition channels offer the industry's highest resolution and the back-end PCI Express interface offers at least four times the throughput of previous PCI-X interfaces. Between them is a Xilinx Virtex-6 FPGA with over 2000 DSP slices to handle the toughest real-time signal processing tasks. We have also built in several popular data acquisition features inspired by customer applications in our earlier-generation boards."

"Pentek is taking full advantage of the Virtex-6 family's functionality in their Cobalt product line, achieving sustained data throughput at 80% of the built-in PCI Express interface's theoretical peak data rate," said Xilinx senior manager, Platform Solutions, Raj Seelam. "They are also able to leverage the Virtex family's reduced power requirements to create boards that will support any Virtex-6 FPGA the customer requires."

High Performance Data Acquisition
The four 200 MSPS, 16-bit data acquisition channels of the 71660 deliver nearly 90 dB of spurious free dynamic range, allowing users to detect small signals of interest surrounded by large interferers. The channels operate from a common clock that can come from an external source or an on-board, programmable, crystal-controlled oscillator. An external clock can drive the ADCs directly as a sample clock or be used as a phase-lock reference for the internal oscillator. The 71660 also utilizes two sync and two gate/trigger signals for synchronizing data acquisition channels across multiple modules.

Modular Memory
Four independent memory banks provide the 71660 with a capacity of up 2 GB of DDR3 SDRAM for applications requiring deep memory, or up to 32 MB of QDRII+ SRAM for applications requiring fast random access. The memory can also be configured to offer two banks of each type, giving users the flexibility to accommodate complex applications. Built-in functions of the memory controller include multi-channel ADC data capture, data streaming, and tagging of data streams with metadata packets that include channel ID, sample count and time stamp information.

Turnkey Functionality with User Configurability
The Virtex-6 FPGA on the 71660 provides customers with a combination of turnkey and custom functionality. Customers can select the specific FPGA device installed, ranging from the lower-cost LX130T to the high-performance SX475T with up to 2016 DSP slices. The board ships with the FPGA configured to provide synchronization, triggering, multiplexing and data acquisition features including a complete radar range gate engine. Users can immediately take full advantage of these advanced 71660 features with no additional FPGA programming. In even with the smallest member of the Virtex-6 family, these built-in functions occupy no more than 40% of the FPGA's resources, providing users with ample opportunity to add their own IP.

The FPGA controls and implements data flow paths for all resources on the board, giving users full command of board operation when desired. Users can configure the FPGA using Pentek's GateFlow Design Kit. The Cobalt version of GateFlow has been optimized for the Virtex-6 family and features increased modularity to help simplify development.

Form Factor, Price and Availability
The native form factor for the 71660 is an XMC module and is also offered in a conduction-cooled version. Other offerings include the 78660 PCI Express board, 53660 3U VPX board, 73660 3U cPCI and the 72660 6U Compact PCI board. Software support initially includes drivers for Windows and Linux platforms, with support for VxWorks to follow.

The Model 71660 pricing starts at $9,995 USD depending on the memory and FPGA configuration. Delivery is 8-10 weeks ARO.

About Pentek
Pentek develops, manufactures and markets innovative COTS and rugged boards and recording instruments for commercial and military markets. Pentek offers powerful VME, VPX, VXS, PMC, XMC, cPCI, PCI, PCIe solutions for data acquisition, software radio and digital signal processing featuring Texas Instruments C6000 DSPs, Freescale PowerPCs and Xilinx FPGAs. Pentek's I/O includes A/Ds, D/As, FPGAs, digital up/downconverters and more. Pentek equips all products with high-performance I/O including gigabit serial interfaces and offers strong DSP and FPGA software support.

Pentek, GateFlow, Cobalt and GateFlow are trademarks or registered trademarks of Pentek, Inc. Brand or product names are registered trademarks or trademarks of their respective holders.

For access to the release and data sheets, please visit: www.pentek.com/whatsnew/viewrelease.cfm?index=144

North American Sales Contact: Mario Schiavone, Pentek, Inc., One Park Way, Upper Saddle River, NJ 07458-2311; Telephone 201-818-5900, ext. 770; Fax 201-818-5904; Email news@pentek.com; Website www.pentek.com.

International Sales Contacts: Elexo in France at (33) 0141 22 1023, Galleon Embedded Computing in Germany at (49) 89 5908 2101, LVD Systems in Italy at (39) 011 966 1319, RECAB AB in Sweden at (46) 8 6830300, Advanced Embedded Systems in the UK at (44) 0 1202 885 675, Sela Electronic Systems in Israel at (972) 3 6479969, MISH International in Japan at (81) 42-538-7650, Beijing Betaone Sysjob Ltd. in China at (86) 10 82784106 and Acetronix Co. Ltd. in Korea at (82) 24202343, ext. 106, Dynamic C4 Pte. Ltd. In Singapore, Malaysia and Indonesia at (65) 6405 4506. For a list of Pentek representatives and distributors, please visit www.pentek.com/contact/replist.pdf.

Related