Qorvo® 802.11ax 5 GHz FEM Improves Wi-Fi Performance in the Enterprise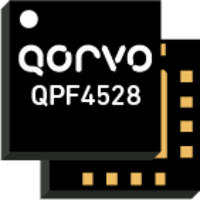 QPF4528 powers New H3C access point with better thermal management and increased linear power transmission
Greensboro, N.C., Dec. 18, 2018 (Globe Newswire) -- Qorvo® (Nasdaq:QRVO), a leading provider of innovative RF solutions that connect the world, today announced that its 5 GHz front end module (FEM) is enabling one of the industry's fastest, most energy-efficient 802.11ax enterprise access points. Qorvo's FEM works with the Qualcomm® IPQ8078 802.11ax chipset to power the WA6628 advanced enterprise-grade access point by leading digital solutions provider New H3C.
Qorvo's highly efficient QPF4528 FEM increases linear power transmission without increasing power dissipation, thereby enabling higher performance 802.11ax enterprise access points in smaller form factor designs. Of note, the QPF4528 is optimized to solve thermal challenges in Wi-Fi equipment designed for multi-user multiple-input multiple-output (MU-MIMO) environments.
The increased capacity provided by 802.11ax technology with 8x8 MU-MIMO delivers significant benefits in the enterprise, including fewer access points, enhanced capacity and efficiency, improved speed and reduced operating costs. IHS Markit estimates that global 802.11ax-enabled device shipments will reach nearly 200 million units by 2021.*
New H3C's WA6628 access point delivers data to 1,000 clients simultaneously with 12 stream channels. Its slim, elegant form factor earned a 2018 Red Dot Design Award – one of the world's top industrial design honors.
Cees Links, general manager of Qorvo's Wireless Connectivity business unit, said, "Qorvo has a laser focus on front-end solutions that support the Wi-Fi standards evolution. Our high-performance products are accelerating the industry's transition to 802.11ax. The increased capacity provided by the .11ax technology and MU-MIMO improves speed and the end-user's experience in the work-intensive enterprise environment."
Learn more about Qorvo's expanded Wi-Fi portfolio here. Read how the portfolio enhances 802.11ax in Qorvo's white paper, "Wi-Fi .11ax – What's It All About?"
Qorvo's Wireless Connectivity business is a leading developer of wireless semiconductor system solutions for connected devices and Wi-Fi integrated front-end solutions. It offers a broad range of advanced RF chips and software for smart home data communications and the IoT.
About Qorvo
Qorvo (Nasdaq:QRVO) makes a better world possible by providing innovative Radio Frequency (RF) solutions at the center of connectivity. We combine product and technology leadership, systems-level expertise and global manufacturing scale to quickly solve our customers' most complex technical challenges. Qorvo serves diverse high-growth segments of large global markets, including advanced wireless devices, wired and wireless networks and defense radar and communications.  We also leverage unique competitive strengths to advance 5G networks, cloud computing, the Internet of Things, and other emerging applications that expand the global framework interconnecting people, places and things. Visit www.qorvo.com to learn how Qorvo connects the world.
Qorvo is a registered trademark of Qorvo, Inc. in the United States and in other countries.
Qualcomm IPQ8078 is a product of Qualcomm Technologies, Inc. and/or its subsidiaries.
Qualcomm is a trademark of Qualcomm Incorporated, registered in the United States and other countries.
* "Many good things in life - including 802.11ax - take time," IHS Markit, February 20, 2018
Investor Relations Contact:
Doug DeLieto
VP, Investor Relations
W +1-336-678-8020

Media Contact Wireless Connectivity:
Elly Schietse
Director
Elly.Schietse@qorvo.com
W +32-52-454430
More from Test & Measurement