QNAP's QuTScloud Cloud NAS Solution Now Available in AWS Marketplace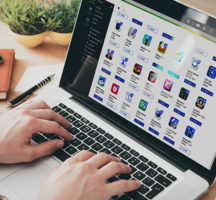 Taipei, Taiwan, August 17, 2020 – QNAP® Systems, Inc. (QNAP), a leading computing, networking, and storage solution innovator, today announced that the QuTScloud – a cloud Network Attached Storage (NAS) solution that enables deploying QTS (the QNAP NAS operating system) on cloud platforms – is available in AWS Marketplace.
Organizations that have stored most of their data on the cloud but lack a management system to capitalize on their digital assets can create a virtual QTS instance on Amazon Elastic Compute Cloud (Amazon EC2) for implementing QuTScloud on Amazon Web Services (AWS). This cloud-based NAS solution not only provides a great solution to optimize cloud-based data usage, but also allows users to benefit from the services and functions of a QNAP NAS.
"QuTScloud is a virtual appliance that leverages AWS infrastructure to empower users with the functionality of an on-premises QNAP NAS," said Aseem Manmualiya, Product Manager of QNAP, adding "it provides an exceptional option for businesses and organizations who want to centrally manage multi-cloud data, along with the additional benefits of greater price-performance flexibility."
QuTScloud can be easily setup and started in three simple steps:
Launch QuTScloud as an Amazon EC2 instance from the AWS Marketplace. Watch tutorial
Purchase a license from the QNAP Software Store. Watch tutorial
Generate a QuTScloud license key using the QNAP License Manager and initialize QuTScloud. Watch tutorial
QNAP also offers an array of utilities to help users take full advantage of cloud storage services – including Amazon Simple Storage Service (S3) and Amazon S3 Glacier. QNAP Hybrid Backup Sync (HBS) facilitates easy backup and file sync to cloud storage, while HybridMount & VJBOD Cloud act as file-based and block-based cloud gateways to seamlessly bridge physical/cloud QNAP NAS and cloud storage for enhanced data value and increased management efficiency.
For more information about QuTScloud features, licensing, and installation, please visit https://www.qnap.com/go/solution/qutscloud/.
About QNAP Systems, Inc.
QNAP, named from Quality Network Appliance Provider, is devoted to providing comprehensive solutions from software development, hardware design to in-house manufacturing. Focusing on storage, networking and smart video innovations, we strive to build a technology ecosystem upon subscription-based software and diversified service channels. QNAP envisions NAS as being more than a simple storage and has created a cloud-based networking infrastructure for users to host and develop artificial intelligence analysis, edge computing and data integration on their QNAP solutions.
Media Contacts
marketing@qnap.com
More from Electrical Equipment & Systems