QNAP Extends Surveillance Integration Scale with Dahua Technology Network Cameras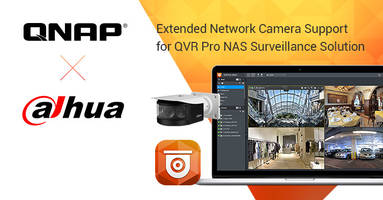 Taipei, Taiwan, August 6, 2018 – QNAP® Systems, Inc. today announced that QVR Pro, the next-generation surveillance solution featuring the QVR Center central management software and QVR Guard failover protection, is now compatible with an additional 88 models of Dahua Technology's Eco-savvy 3.0, WiFi 265 and H.265 PTZ series network cameras.
QNAP has worked with Dahua Technology to provide users with greater choice and compatibility in deploying a comprehensive surveillance solution. Dahua's Eco-savvy 3.0 network camera series can deliver real-time 4K video streams at 15 fps, providing security applications with impressive range of smart detection features. Dahua's WiFi 265 series supports H.265 compression. Dahua's H.265 PTZ camera provides a large monitoring range with clear details, while the latest H.265 compression cuts bandwidth in half to ensure video recording with greater efficiency and lower cost. 
QVR Pro, the professional surveillance solution on QNAP NAS, includes 8 monitoring channels, allowing users to quickly build a home surveillance environment hosted on the QNAP NAS without any extra software required. Businesses can easily expand the number of monitoring channels up to 128 by purchasing QVR Pro licenses to deploy a large-scale surveillance project. QVR Pro uses an independent operating environment on the QNAP NAS, and by leveraging the storage expandability of the NAS, surveillance videos are safely stored for on-demand playback. The enhanced QVR Pro Client cross-platform software allows for rapid multi-channel playback and can support simultaneous play multiple 4K network cameras. Synchronous playback can focus on moving objects, while the diversified event notification setting ensures all urgent events are delivered. QVR Pro Client is available for mainstream operating systems on desktop and mobile, making surveillance management more convenient.
For more product information about QVR Pro, visit https://www.qnap.com/solution/qvr-pro-official/en/. 
For more information about QNAP NAS and compatible network cameras, visit https://www.qnap.com/en/compatibility-qvr-pro.
For more information about Dahua Technology, visit http://www.dahuasecurity.com/.
About Dahua Technology
Zhejiang Dahua Technology Co., Ltd. is a leading solution provider in the global video surveillance industry. In 2017, Dahua was ranked 4th in "Security Top 50" by a&s International. Dahua is committed to providing the highest quality solutions and products with the latest technologies to enable our end users to perform their business successfully. The company has more than 6,000 R&D engineers and technical staff working on cutting-edge technologies in camera lens, image sensors, video encoding & transmission, embedded processors, graphic processing, video analytics, software reliability, network security and other technologies.
About QNAP Systems, Inc.
QNAP Systems, Inc., headquartered in Taipei, Taiwan, provides a comprehensive range of cutting-edge Network-attached Storage (NAS) and video surveillance solutions based on the principles of usability, high security, and flexible scalability. QNAP offers quality NAS products for home and business users, providing solutions for storage, backup/snapshot, virtualization, teamwork, multimedia, and more. QNAP envisions NAS as being more than "simple storage", and has created many NAS-based innovations to encourage users to host and develop Internet of Things, artificial intelligence, and machine learning solutions on their QNAP NAS.
Media Contact
More from Mechanical Power Transmission