QED Environmental Systems Announces the LANDTEC BIOGAS 3000 and BIOMETHANE 3000 Fixed Gas Analyzers are Now CSA-Certified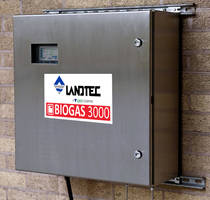 Equipment independently tested for use in potentially explosive areas
Dexter, MI – QED Environmental Systems announces that the LANDTEC BIOGAS 3000 and the BIOMETHANE 3000 Fixed Gas Analyzers have received certification by the CSA Group. The CSA safety mark signifies that the equipment has been independently tested for compliance with North American and Canadian safety standards.
Canadian and North American regulations and codes governing use of electrical or battery powered equipment in a potentially hazardous location require use of certified equipment. Public health and safety officials, including fire marshals and electrical inspectors, have the authority to disapprove an installation or the use of equipment without the appropriate safety certification.
BIOGAS 3000 and BIOMETHANE 3000 are AC-powered products that measure biogas and landfill gas and can be installed in potentially explosive areas. The CSA certification ensures that the equipment can be safely used and will not be the cause of an explosion. The product families also have specific marks for territory of use: 'C' for Canada and 'US' for North America.
QED redesigned the equipment to meet specific territory standards, including ensuring that component temperatures do not exceed limits that could ignite a gas and will not result in any sparking that could contain enough energy to cause ignition. Other requirements include creepage limits, component clearances to avoid short-circuits, and NEMA 4X integrity testing for weatherproofing. The equipment was then submitted to the CSA Group, which reviewed the product for compliance against recognized standards. QED received CSA Certificate of Compliance, which is good for the life of the product, provided the equipment is installed and regularly maintained in accordance with the operating manual.
QED is responsible for ensuring that each system manufactured meets the certified design. In addition, CSA conducts quarterly compliance audits of the manufacturing facility.
"Obtaining this stringent CSA certification demonstrates to our North American and Canadian customers how seriously we take safety, and that we are committed to satisfying all customers' requirements, no matter where they are located" said Belinda Shuler, Biogas and Viasensor Product Manager. "In addition to receiving CSA certification, these products also have ATEX and IECEx certifications for use in potentially explosive atmospheres."
About Q.E.D. Environmental Systems, Inc.
Q.E.D. Environmental Systems, a subsidiary of Graco Inc., is a leading manufacturer of innovative environmental pumping systems, landfill products, landfill gas products, and air strippers for use at landfills, mines, oil refineries and other industrial sites, as well as hazardous waste cleanup sites. Our products are used around the world for a wide range of environmental applications, including groundwater sampling, groundwater remediation pumping, landfill leachate and condensate pumping, landfill gas collection and control, landfill and biogas analysis, air stripping and VOC removal, and wireless data acquisition. Based in Dexter, MI, QED serves customers from support centers in Michigan and California. For more information, call 734-995-2547 or contact us at info@qedenv.com.
CONTACT:
Kristin Nugent
McNeil, Gray & Rice
617-367-0100, ext. 148
More from Cleaning Products & Equipment