Q-Switched Nd:YAG Lasers fit into small spaces.
Press Release Summary: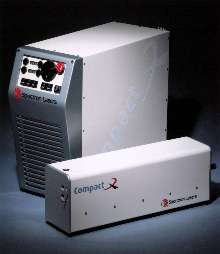 Compact-Q Lasers provide 800 mJ per 6-8 ns pulse at 1064 nm with pulse repetition frequency of 10 Hz. They are offered with stable multimode, gaussian-coupled, or TEM
00
resonator options. Mini-rail design allows them to be configured in oscillator, twin oscillator, and oscillator amplifier configurations with minimal change to laser head. Applications include PIV, LIF, LIBS, marking and drilling, and laser ablation, as well as mass spectroscopy and OPO pumping.
---
Original Press Release:

GSI Lumonics Announces New Spectron Compact-Q Nd:YAG Lasers


RUGBY, ENGLAND & FARMINGTON HILLS, MI, August 2003 -GSI Lumonics Inc. (Nasdaq: GSLI and TSX:LSI) announces a new range of small high power Nd:YAG lasers, the Compact-Q series.

The Compact-Q complements its smaller stable mate, the highly successful Mini-Q laser series, and is also a compact and transportable Q-switched Nd:YAG laser. The Compact-Q provides 800mJ per 6-8ns pulse at 1064nm with a pulse repetition frequency of 10 Hz. With a laser head measuring just 45 cm long, the Compact-Q will fit into the smallest of spaces, making it ideal for the OEM and the laboratory alike.

The Compact-Q is offered with a choice of stable multimode, gaussian-coupled, or TEM00 resonator options. Its unique mini-rail design allows it to be configured in oscillator, twin oscillator, and oscillator amplifier configurations with minimal change to the laser head. This flexibility ensures that each laser can be configured to provide the desired combination of beam output energy, quality, and divergence. Also available are second, third, and fourth harmonic generation modules, including integral harmonic
separators, which can be incorporated initially or used to upgrade the units at a later date.

Applications for the Compact-Q include PIV, LIF, LIBS, marking and drilling, and laser ablation, as well as mass spectroscopy and OPO pumping.

GSI Lumonics Inc. supplies precision motion control components, lasers and laser-based advanced manufacturing systems to the global medical, semiconductor, electronics, and industrial markets. GSI Lumonics' common shares are listed on Nasdaq (GSLI) and The Toronto Stock Exchange (LSI). For more information on GSI Lumonics, please visit www.gsilumonics.com.

For more information, please contact:
Steve Crang
Corporate Communications Dept.
GSI Lumonics Inc.
22300 Haggerty Road
Northville, MI 48167 USA
Tel: 248-449-8989 x2664
Fax: 248-735-2460
E-mail: crangs@gsilumonics.com

More from Test & Measurement