PXIe Multiplexer offers functionality for diverse applications.
Press Release Summary: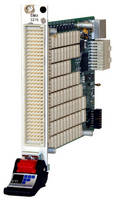 Designed for scanning multiple points to common bus, SMX-3276 can be reconfigured for 1-, 2-, or 4-wire configurations. This 152-channel, 300 V/2 A, 3U PXIe multiplexer module combines PXIe platform bandwidth capabilities and high power switching to enable ATE system designers to switch input signals with up to 34 MHz bandwidth while delivering crosstalk levels down to -70 dB at 100 kHz. Features also include internal capacitive discharge relays, 160-pin DIN connector, and signal shielding.
---
Original Press Release:

Versatile PXI Express 152 Channel 300V/2A Multiplexer



Irvine, CA – VTI Instruments is pleased to announce the introduction of its SMX-3276 - a 152 channel, 300V/2A, 3U PXI Express multiplexer module designed for the scanning of multiple points to a common bus. The module can be reconfigured under program control for 1, 2, or 4-wire configurations providing the versatility necessary to be used in various applications. Combining the high bandwidth capabilities of the PXI Express platform and VTI Instruments' high power switching systems has allowed VTI to provide ATE system designers with the ability to switch input signals with up to 34 MHz bandwidth while delivering crosstalk levels down to -70dB at 100 kHz. The SMX-3276 was designed with the same core philosophy of providing high channel-density without compromising performance, bringing instrument grade switching capabilities to PXI Express for the first time.



SMX-3276 PXI Express 152 Channel Multiplexer Other features include:

Internal capacitive discharge relays that keep high voltages from disturbing sensitive measurement points

160-pin DIN connector for easy connectivity

Extensive signal shielding that preserves signal integrity throughout the signal path by maintaining the signals at the same reference level as the UUT



"VTI is a recognized industry leader in modular signal switching solutions, and we are strengthening our heritage by offering highly versatile, instrument-grade modules on the PXI Express platform" said Tom Sarfi, VTI Instruments VP of Product Management. "The SMX-3276 exemplifies the value we bring to our customers. A single model number is suitable for switching high-level DC signals to 300 V, or signals with AC components in excess of 30 MHz, in multiple configurations.



As an extension of VTI's award winning EX1200 series switch family, the SMX series also provides seamless integration between the families, simplifying transition from a low to medium sized switch system in PXI Express, to a large scale switch system in the EX1200.



VTI Instruments is dedicated to providing customers with highly reliable switching and instrumentation necessary for mission critical applications and a commitment to the longevity of our products by minimizing obsolescence risks and guaranteeing long-term support.



Find out more about the SMX-3276 PXIe Multiplexer and our SMX PXI Express Standard Switches on our website or contact our knowledgeable applications engineers to see what solution would be best for your testing needs.



About VTI Instruments



VTI Instruments delivers precision modular instrumentation and systems for electronic signal distribution, acquisition, and monitoring, used in the world's most demanding test applications. The company's products and systems are used to monitor and record data that characterizes the physical integrity and performance of aircraft, engines, and other large structures, as well as automate the functional testing of complex electronic systems.



VTI is recognized as an industry leader with a reputation of providing reliable data, first time, every time. A sustained focus on innovation and technology enables VTIs customers to optimize their capital investment through product longevity, while ensuring unmatched measurement integrity and data reliability.



VTI Instruments is a unit of AMETEK, Inc., a leading global manufacturer of electronic instruments and electromechanical devices.



Contact Us:

VTI Sales

sales@vtiinstruments.com

(949)955-1894

More from Electronic Components & Devices