PXI Digital I/O Module features programmable threshold.
Press Release Summary: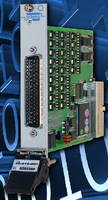 Model 40-412 provides 32 channels of digital output lines that can serve as high/low side drivers. Each channel can source 0.4 A or sink 0.5 A at voltages up to 50 V and has protection circuits that prevent over-voltage, over-current, and thermal overload conditions. There are also 32 channels of independent digital inputs with dual variable logic threshold that permits users to detect when input is in low, intermediate, or high state from one read operation.
---
Original Press Release:

Pickering Interfaces Introduces New PXI 32 Channel Variable Threshold Digital I/O Module



Clacton on Sea, UK, January 2009 -Pickering Interfaces is again expanding its range of PXI modules with the introduction of the 40-412 32-Channel Digital Programmable Threshold I/O Module.

The 40-412 provides 32 channels of digital output lines that can serve as high or low side drivers. Each channel is capable of sourcing 0.4A or sinking 0.5A at voltages up to 50V and has protection circuits that prevent over voltage, over current or thermal overload from occurring. Software interlocks prevent the high side and low side drivers on a channel from being operated at the same time, but the module allows each channel to be independently selected for high or low side driving.

When High side driving is used the source voltage is supplied by the user to multiple pins on the module's robust D Type connector.

The 40-412 provides 32 channels of independent digital inputs with a dual variable logic threshold that permits users to detect when an input is in a low state, an intermediate state or a high state from a single read operation. The high input impedance ensures minimal loading on the digital inputs. A single command allows the user to sequentially capture the status of all 32 input channels

For applications requiring the read back of an output driver state, users of the 40-412 can connect the digital input and digital outputs together in a cable assembly or connector block. Pickering Interfaces provides a full range of connectivity options to support the 40-412.

According to David Owen, Business Development Manager for Pickering Interfaces "The availability of high and low side drivers and digital inputs in a single module is ideal for applications where a common test platform is required to test a variety of UUT's. The 40-412 provides a unique mixture of high voltage and current capability combined with variable threshold input state detection in a compact 3U single slot format. This will appeal to users testing general purpose digital circuitry as well as those requiring the ability to drive external loads, such as relay coils and solenoids, without risk of damage to the driver under fault conditions and to read back the state of drive lines on the UUT".

Pricing and availability information is supplied on our web site www.pickeringtest.com

About Pickering Interfaces

Pickering Interfaces is a market innovator in signal switching and conditioning for a broad range of applications and architectures, with the largest range of switching modules in the industry for PXI, LXI, PCI, VXI and GPIB applications. Pickering Interfaces has provided solutions to both commercial and MIL/Aero applications. In addition, Pickering's range of instrumentation provides innovative test solutions to users and integrators of modular test systems. Pickering Interfaces operate globally with direct operations in the US, UK, Germany, Sweden, France , Czech Republic, and Engineering support in China, together with additional representation in countries throughout the Americas, Europe and Asia.

Sales Contact for the US :
bob.stasonis@pickeringtest.com
Tel. +1 781-897-1710

More from Controls & Controllers