AC Motor Controllers and Drives
PWM Driver/Controller has RS-232 serial interface.
Press Release Summary: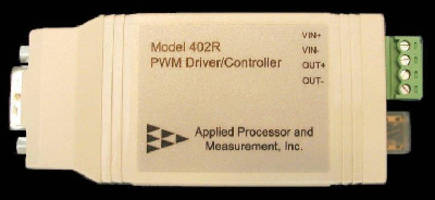 Model 402 employs RS-232 serial interface for control of output frequency and duty cycle for PWM solenoid and valve applications. Available in non-isolated and electrically isolated versions, unit may be readily interfaced to PCs, PLCs, and control systems for test, development, and OEM applications. Frequency range is 10-1,000 Hz with 1 Hz resolution and 1,000-1,500 Hz with 50 Hz resolution, and duty cycle is adjustable from 0-100% with 0.1% resolution.
---
Original Press Release:

Applied Processor and Measurement, Inc. Announces the Model 402 PWM Driver/Controller for RS-232 to PWM Computer/PLC Solenoid Drive and Control Applications



East Amherst, NY, July 29, 2009: Applied Processor and Measurement, Inc. announces the release of the Model 402 PWM Driver / Controller. The Model 402 is a PWM Driver with an RS-232 serial interface for control of the output frequency and duty cycle. The Model 402 provides a low-cost, easily interfaced, and small packaged driver for PWM solenoid and valve applications. The Model 402 is readily interfaced to PC's, PLC's and control systems for test, development and OEM applications. The Model 402 is available in 2 versions, non-isolated and electrically isolated. Product is available to ship now.

Features of the Model 402 PWM Driver / Controller:


RS232 control of PWM output frequency and duty cycle

low cost PWM Driver using accurate, repeatable and reliable APM, Inc. digitally generated PWM technology

signal conditioning style unit, DB-9 dongle, small form factor

frequency range: 10 to 1,000 Hz with 1 Hz resolution and 1,000 to 1,500 Hz with 50 Hz resolution

duty cycle adjustable from 0 to 100% with 0.1% resolution

single letter ASCII command interface, 3 wire hardware interface (Rx, Tx, Gnd) at 9600 baud

electrically isolated RS-232 model available

power MOSFET output with low side load control - PWM output sinks up to 4A at 12V

output protected with standard automotive mini-blade style fuse, socketed and easily replaced

controller operates from nominal 12V DC, load may be operated with up to 32V DC

I/O connection using pluggable terminal strip

industrial temp rated, rugged construction, multi-layer PCB - designed for high reliability and long service life

Refer to the datasheet on our website for a complete list of features and specifications.

The Model 402 is available to ship now: order number: PWMC-402R for the non-isolated RS-232 to PWM output, order number PWMC-402T for the electrically isolated RS-232 to PWM output. All APM, Inc. standard products are available from stock to 1 week in low order quantities. Please contact APM, Inc. for pricing at sales@appliedprocessor.com.

About The Company

Applied Processor and Measurement, Inc. (APM, Inc.) designs and manufactures PWM drivers and controls for valves and solenoids, and, signal conditioners and motion controls for use in industrial, automotive and commercial applications. APM, Inc. products involve the application of embedded microcomputers, and associated analog and digital electronics, which provide electronic control and measurement solutions for our customers. APM, Inc. has been supplying PWM drivers and electronic controls for nearly 20 years.

Continue to look for further announcements on our website in 2009 regarding new product releases!

Contact:

For more information:

technical information or quotes on the Model 402 PWM Driver / Controller

technical information or quotes on any APM, Inc. product

inquiries on customizations and embedded control development

information on this news release or the company

Also available:

Model 205 PWM Controller - desktop style unit, high performance

Model 400 PWM Driver/Controller - signal conditioning style unit, analog to PWM control

Robert B. Drzewiecki
Vice President, Product Development
Applied Processor and Measurement, Inc.
716-741-1141
sales@appliedprocessor.com

More from Communication Systems & Equipment