PV System maximizes energy density of rooftop solar arrays.
Press Release Summary: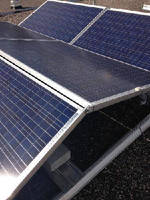 Using tandem 410 W and 450 W high-tilt modules, RAIS® XT DUO™ captures all light without single yield loss. By integrating racking system into modules, system offers way to capture maximum energy from space, while simplifying installation. XT-DUO builds on module-level rapid-shutoff capability, ensuring that all rooftop PV systems are safe from arcs and fire risks. Fault tolerant architecture helps ensure system is only minimally impacted in event of component failure or system damage.
---
Original Press Release:

tenKsolar Announces Full Commercial Production of Industry's Leading Energy Density System



tenKsolar RAIS XT DUO™ reduces costs and increases energy density while providing the most kWh in any space



MINNEAPOLIS, – tenKsolar ("tenK"), a Minneapolis based manufacturer of cell independent, low voltage PV systems today announced the XT DUO, a new product in the RAIS® XT family of PV solutions that will reduce hardware costs and increase the energy density of rooftop solar arrays. The XT DUO offers the best energy density in the solar market, and has been launched into full commercial production.



Dallas Meyer, Founder, President and CTO of tenK, said, "The XT DUO system meets a real need in the rooftop solar market as it generates up to 40% more energy per square foot than similarly priced conventional solar offerings. Using the best-in-class shade tolerance of the tenK modules, the XT DUO uses tandem 410W and 450W "high-tilt" modules to capture all light without a single yield loss. By integrating the racking system into the modules, tenK's XT DUO offers a way to capture maximum energy from a space while eliminating virtually all of the racking costs and dramatically simplifying the installation."



Already widely known for its PV systems utilizing reflective racking, the XT DUO builds on tenK's module-level rapid-shutoff capability, ensuring that all tenK rooftop PV systems are safe from arcs and fire risks. tenK's fault tolerant architecture helps lower the cost of maintenance of PV systems by ensuring the system is only minimally impacted in the event of a component failure or damage to the system. 



Joel Cannon, Chief Executive Officer of tenK, added, "We always knew we were onto something big at tenK, but getting the market at large to buy-in takes time. Our patience and diligence is paying off. We tripled revenue in 2014 and are rapidly expanding capacity and adding a production shift due to steep demand. Our aim is to be the preferred PV system provider in the commercial rooftop solar market and launching the XT DUO is another example of our clear leadership."



About tenKsolar

tenKsolar designs, manufactures and markets high efficiency and highly reliable photovoltaic solutions based on its proprietary RAIS technology. tenKsolar offers turnkey commercial rooftop solar PV arrays providing the solar industry's lowest energy costs, low-voltage safety and low installation cost. Founded in 2008, tenKsolar is headquartered in Minneapolis, Minnesota. Please visit http://tenksolar.com/ .



Media Contacts:

tenKsolar

Robin Clawson

408-805-0501

More from Computer Hardware & Peripherals