PV Metallization System operates up to 600 mm/sec.
Press Release Summary: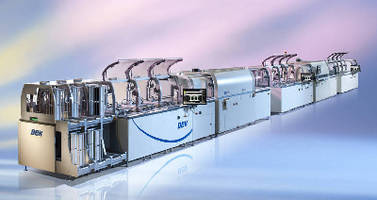 Featuring multiple print heads operating in parallel, Eclipse offers modular design that enables manufacturers to scale production up or down to 1,200, 2,400, or 3,600 wph. If manufacturers foresee production ramp, line can be designed accordingly by inserting blank process modules equipped with conveyor belts where future production volumes will be added. Primary process modules incorporate master controls, so that subsequent, field-retrofittable modules operate as secondary slaves.
---
Original Press Release:

US Launch for DEK Solar's New Eclipse PV Metallization Technology at Solar Power International 2010



DEK Solar, a leading solar cell manufacturing technology specialist, is preparing to launch its brand new photovoltaic metallization platform in the US at this year's Solar Power International exhibition. Showcasing new Eclipse technology from October 12th - 14th on Booth 853, the DEK Solar team will unveil a new, scalable PV production advantage to visitors in Los Angeles.

Eclipse is a very high throughput metallization solution that features multiple print heads operating in parallel to eliminate downtime. Generating top print speeds of up to 600mm/sec, the platform features an innovative modular design concept, enabling manufacturers to easily scale production up or down, to 1200, 2400 or 3600 wph. Plus, if manufacturers foresee this kind of production ramp, the metallization line can be designed accordingly, by inserting blank process modules equipped with conveyor belts where future production volumes will be added in. When the time is right for additional throughput volume, these blanks can be exchanged for extra print capacity, eliminating the need to reconfigure the entire line. Primary process modules, including the print head, incorporate master controls, meaning that subsequent, field-retrofittable modules operate as secondary "slaves", removing the cost of further control units.

In addition to using Solar Power International as an opportunity to discover the new Eclipse platform, visitors can also use the show to learn more about DEK Solar. Having been active in solar cell manufacturing for over 30 years, the company's expertise extends back to photovoltaic thick film technology. The precision screen printing processes it deploys today in its solar metallization solutions were honed in demanding semiconductor packaging applications. As a consequence, DEK Solar's comprehensive process knowledge and applications expertise, combined with an extensive global infrastructure, has led to industry advances in areas such as service, support and competitive lead times.

Other DEK Solar technologies include the multi-award-winning PV1200 metallization platform with six-sigma process rating, sophisticated handling capabilities and 12.5 micron resolution. The company has also contributed to major process advances in the field of Print-on-Print, delivering measurable and sustainable improvements in conductor aspect ratios. Since the launch of the PV1200 in 2008, DEK Solar has attracted positive reviews from customers for its innovative approach to technology and service.

Ningbo Solar President, Zhou Jianhong, claimed: "DEK was able to offer us a complete metallization solution backed by lead times of weeks, rather than months, a major productivity driver that obviously appealed to our team." Zhejiang Hongchen Vice President of Operation, Xiang Xiao, added: "Thanks to DEK, now we can not only be sure that we have a technological edge when it comes to solar cell production, but we can also operate safe in the knowledge that we have the support we need to maximize uptime going forward."

About DEK Solar

DEK is a global provider of next-generation technologies and process support to solar cell manufacturers with solutions that include modular metallization platforms, precision screens and materials applications used in back side field coating, current-collector pattern and termination deposition for photovoltaic substrate production. For more information, visit DEK Solar at www.deksolar.com.