PV Metallization Pastes optimize solar panel performance.
Press Release Summary: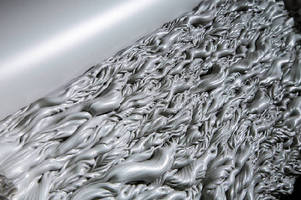 Intended for crystalline silicon solar cells, DuPont™ Solamet® PV18H and PV18J utilize proprietary Tellurium technology, which optimizes conversion efficiency of solar cells and allows extremely fine line printability down to 35 microns. Solamet® PV18H enables optimized contact resistance to enhanced lightly doped emitters on mono-crystalline solar cells, while Solamet® PV18J demonstrates superior adhesion even with thinner busbars, and offers wide solder temperature window.
---
Original Press Release:

DuPont Microcircuit Materials Adds Two New Solamet® Photovoltaic Metallization Pastes



Advanced Formulations Designed to Improve Solar Panel Performance and Manufacturers' Profitability



RESEARCH TRIANGLE PARK, N.C., – DuPont Microcircuit Materials (DuPont) has added two new products to its leading lineup of frontside silver metallization pastes for crystalline silicon solar cells. DuPont™ Solamet® PV18H and PV18J photovoltaic metallization pastes offer solar cell manufacturers improved efficiency and profitability.



DuPont(tm) Solamet(r) silver metallization paste

DuPont has added two new products, Solamet® PV18H and PV18J, to its leading lineup of frontside silver metallization pastes, offering improved efficiency and profitability for crystalline silicon solar cell manufacturers.



"The DuPont™ Solamet® PV18x series offers more efficiency with less material required, and we continue to innovate and build on the series," said Peter Brenner, global photovoltaic marketing manager, DuPont Microcircuit Materials.  "These two newest offerings demonstrate a range of superior technical properties to meet different customers' manufacturing process requirements.  We are excited about rolling them out to our customers globally and seeing very positive results from customer early adoption."



The advanced Solamet® PV18x series products deliver a step change in the power output of solar panels by improving the conversion efficiency of solar cells.  This is due to proprietary Tellurium technology, which is only licensed and available from DuPont, and has been instrumental in unlocking efficiency gains by more than 0.5 percent by allowing contact to enhanced lightly doped emitters.  Compared to industry standard pastes on multi-crystalline solar cells, Solamet® PV18H and PV18J can boost conversion efficiency by an additional 0.15 percent as well as enabling extremely fine line printability down to 35 microns.  In addition, up to 30 percent less material usage is required with these new materials, resulting in significant savings for manufacturers.



Solamet® PV18H further enables excellent contact resistance to enhanced lightly doped emitters on mono-crystalline solar cells to maximize power output.  Solamet® PV18J demonstrates superior adhesion performance even with thinner busbars, and improves processing with excellent solderability and a wide solder temperature window.



Through continued investment in research, development and intellectual property, DuPont™ Solamet® photovoltaic metallization paste technology has almost doubled solar cell efficiency over the past 12 years and continues to advance the industry.



DuPont is the leading supplier of specialty materials to the solar energy industry, with the broadest portfolio of products designed to improve the power output, reliable lifetime and return on investment for solar panels.  To learn more, please visit http://photovoltaics.dupont.com.



DuPont Microcircuit Materials has over 40 years of experience in the development, manufacture, sale and support of specialized thick film compositions for a wide variety of electronic applications in the photovoltaic, display, automotive, biomedical, industrial, military and telecommunications markets.  For more information on DuPont Microcircuit Materials, please visit http://mcm.dupont.com.



DuPont (NYSE: DD) has been bringing world-class science and engineering to the global marketplace in the form of innovative products, materials, and services since 1802.  The company believes that by collaborating with customers, governments, NGOs, and thought leaders we can help find solutions to such global challenges as providing enough healthy food for people everywhere, decreasing dependence on fossil fuels, and protecting life and the environment.  For additional information about DuPont and its commitment to inclusive innovation, please visit www.dupont.com.



The DuPont Oval Logo, DuPont™, The miracles of science™, and Solamet® are registered trademarks or trademarks of DuPont or its affiliates.



Contact:

Ellen G. Pressley

919-248-5598

ellen.g.pressley@usa.dupont.com

More from Material Handling & Storage