Putty cures at room temperature
Press Release Summary: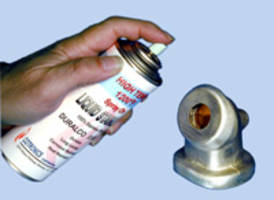 Durabond(TM) 7032 1-component, metallic putty cures at room temperature to form machinable, stainless steel composite with high bond strength and excellent chemical, corrosion, and shock resistance. It has no harsh odors or outgassing, and does not contain flammable solvents. Durabond 7032 will not run or sag while applying. Putty repairs pumps, valves, fittings and equipment; rebuilds worn housings, shafts and tank linings; and fills cracks and holes.
---
Original Press Release:
Durabond(TM) 7032, A Metallic, Stainless Steel, One Component Putty That Fills, Bonds, Protects and Repairs to 2000*F
Summary New, Durabond(TM) 7032 One Component, Metallic, Stainless Steel Putty That Fills, Bonds, Protects and Repairs to 2000°F. Just apply and let dry. 7032 cures at room temperature to form a machinable, stainless steel composite with high bond strength even at high temperature and excellent chemical, corrosion and shock resistance. Durabond(TM) 7032 is ideal for repairing pumps, valves, fittings and equipment; rebuilding worn housings, shafts and tank linings, filling cracks, holes, voids and blowholes. Introducing Durabond(TM) 7032, A Metallic, Stainless Steel, One Component Putty That Fills, Bonds, Protects and Repairs to 2000°F. Easy to use. Just apply and let dry. Hardening starts in just 60 minutes. User friendly! Does not contain flammable solvents. No harsh odors. No outgassing. Durabond 7032 cures at room temp. to form a machinable, stainless steel composite with high bond strength at high temperature. Offers excellent adhesion, corrosion and chemical resistance and will not run or sag while applying. Applications include: repairing pumps, valves, fittings and equipment; rebuilding worn housings, shafts and tank linings; filling, cracks, holes, voids and blowholes; etc. Durabond 7032 is commonly used for the production of motors, assemblies, instrumentation, laboratory equipment, automotive parts, machines, etc. Durabond 7032 is the ideal choice for any high temp application requiring high bond strength and up to 2000°F. Packaged in one pound containers complete with data sheets, instructions and a copy of Cotronics' High Temperature Materials Handbook for only 34.95