Put Some Teeth Into It: Recycling Tough-to-Crush Slabs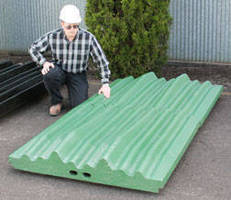 As proposed repair and improvements in U.S. infrastructure appear more imminent, those industries affected could face an increased demand to make way for the new by recycling the old. Old concrete and asphalt, that is.

To help crusher operators determine if they need special jaw profiles for recycling asphalt and concrete, Columbia Steel Product Engineering Manager Steve Dolezal offered these simple guidelines: "Do slabs fall through your jaw crusher without being crushed? Or do slabs fail to break and then create blockage?" If so, said Steve, it's time to consider jaws designed specifically to handle these troublesome materials and reduce downtime.

Anti-slab jaws are based on traditional and high-tooth jaw designs but with additional raised slab breakers in pitch with conventionally located teeth. The number of slab breakers is proportional to the width of the crusher's size and model, allowing the operator to set the discharge for a reasonable opening and still break slabs that otherwise would flow through the crusher.

Columbia Steel is uniquely positioned to supply slab-busting wear parts for nearly 70 different crusher makes and models. Their jaws are available in tough standard manganese steel alloy and in Xtralloy® premium manganese. The company has been manufacturing anti-slab dies for jaw crusher operators for over 35 years.

Headquartered in Portland, Oregon, Columbia Steel's 86-acre facility is home to an on-site product design and engineering department and full-service steel casting foundry. They will be exhibiting in Orlando, Florida, at the AGG1 Aggregate Forum & Expo, Booth 1222, in March 2009.


More from Fasteners & Hardware