Pushbutton Switches offer dual and quad LED design.
Press Release Summary: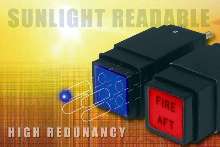 Providing sunlight readability, Series SW44267 accommodates up to 4 T-1 sub-midget, flange-based super-bright LEDs, offering safety backup and redundancy. Units feature interchangeable lenses with clear or smoke grey top cover, black opaque sides, and legend filters. Mounting into 0.698 in. square hole, switches are 0.75 in. square and rated to 30 Vdc, 2 A resistive and 0.5 A inductive. Multi-function units offer split, quadrant, or full segment display configurations.
---
Original Press Release:

Electro-Mech Introduces New Lighted Pushbutton Switch Featuring Dual And Quad LED Design For Redundancy And Sunlight Readable Intensity


South El Monte, CA -November 3, 2004 - Electro-Mech Components, Inc. has introduced a new compact, lighted pushbutton switch featuring dual and quad lamps or LED's, to provide high intensity brightness and sunlight readability for use in outdoor applications and installations where optimum redundancy is assured for critical operations and display integrity. The new switch also is capable of providing multi-function activation, otherwise requiring up to four individual switches, thereby offering space-savings of up to 75%.

Ideal applications for these new models include uses as warning lights in industrial and avionics displays, instrument panels and controls including life-critical medical devices, audio, and other panels where high-density panel applications require high illumination and functional reliability.

Featured in the same design format as Electro-Mech's popular Series 644-2100, units can accommodate up to four T-1 (3mm) sub midget flange based super-bright LED's (Model SW44267) for longer life while capable of intensities to meet applications requirements. This multi-lamp design offers an excellent means of safety backup and redundant reliability. For greater display design opportunities, these new units feature interchangeable lenses with a clear or smoke grey top cover, black opaque sides, and legend filters. Legends up to 0.125" high can be provided to meet customer requirements, with black characters or hidden legend displays. Multi-function units are capable of display configurations in split, quadrant or full segments, and can be provided in both continuous visible legends and hidden legends that become visible when switch functions are activated.

Series SW44267 models are only 0.75" square and can be snapped in from the front of the panel, mounting into a standard 0.698" square hole. A back-up bracket affixes to the rear of the panel, secured in by a threaded locking arm. Momentary styles require only 1.6" behind panels, while Multi-Function units may require up to 3" depending on internal circuitry.

Interconnection to circuitry or wiring is provided by standard solder lug terminals, which accepts 20AWG wire (standard), or the unit can be provided with PCB pin terminals or wire harness.

The Series SW44267 is rated at 30VDC (115VAC), 2A resistive, 0.5A inductive. Other features include operating pressure 16 oz. (± 4 oz.) (Momentary) or 32 oz. (± 8 oz.) (Alternate Action). Switch life is rated at 100,000 minimum actuations. The unit is designed to meet applicable military and stringent commercial standards, including seal, moisture resistance, vibration, temperature, shock and environmental requirements, and is rated to IP64 protection standards.

"Dual and quad lighting capability in such a compact size unit will open new doors to greater display opportunities, with the added value of redundancy" stated Terry Trumbull, Vice President. "Our core customers have eagerly responded to this format anticipating significant savings in service life, unit costs and panel space."

Unit pricing is from $89.50 each in 100 piece quantities, availability is 10 weeks ARO. Complete specifications are available at www.electromechcomp.com.

About Electro-Mech Components, Inc.
Electro-Mech Components, Inc. is located 15 miles east of Los Angeles in South El Monte, California and specializes in the design and manufacture of illuminated pushbutton switches, indicator lights and multi-switch assemblies including interlocking and multi-function assemblies. The company operates its additional switch manufacturing plant in Tijuana, B.C., Mexico.

For complete specifications or the company's entire line of switches and indicators, visit www.electromechcomp.com or contact Electro-Mech Components, Inc., 1826 Floradale Ave., South El Monte, CA 91733-3689. Phone (888) 442-7180; Fax: (626) 350-8070; e-mail: info@electromechcomp.com; Website: www.electromechcomp.com.

Related