Pushbutton Locks add keyless access to glass door.
Press Release Summary: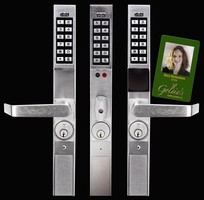 Made from alloy metals, Narrow Stile DL1200, DL1300, and PDL1300 locks are weatherproof from -31 to +151°F and offer 80,000-100,000 cycles. Fingertip programmable Model DL1200 supports 100 three to 6 digit PIN user codes, while PC programmable DL1300 supports 2,000 users, features 40,000 event audit trail by user, and provides 500 event schedules. Narrow Stile PIN/Prox PDL1300 PC programmable model has built-in prox reader and supports HID Prox ID cards or fobs.
---
Original Press Release:

Get Convenient Trilogy Narrow Stile Keyless PIN or PIN/Prox Access Anywhere there's a Glass Door



April 1, 2008

Alarm Lock's new Trilogy Narrow Stile pushbutton locks are designed to add keyless access and audit trail capability anywhere there's a glass door. Our Narrow Stile DL1200, DL1300 and PDL1300 locks are vandal-resistant, made from strong alloy metals and are designed to protect your storefronts and managed properties.

These 12-button stylish keypads are compact in size and are offered in seven aesthetically pleasing finishes (US4, US10, US26D, US26, US3, US5, US10B) to pair nicely to a wide variety of doors and frames. Narrow Stile locks are weatherproof from (-31° to +151°F) and operate on 2 long lasting lithium 3V batteries. Depending on how often you use your locks, you will typically receive between 80,000 - 100,000 cycles before your low battery alert turns on. These pushbutton locks are fingertip programmable and can be scheduled to automatically lock and unlock during designated hours. What's more, each model comes with a 1-¼" key override mortise cylinder. 1-1/8", 1-3/8" mortise cylinders and Corbin, Russwin, Yale, Schlage and Medeco interchangeable cores are also supported.

The first of our Narrow Stile models is our DL1200. This simple fingertip programmable lock supports 100 3-6 digit PIN user codes. Our second lock, DL1300 is PC programmable, supports 2000 users and features 40,000 event audit trail by user. DL1300 provides 500 event schedules that can program to lock and unlock by a real time clock. Last but not least, our Narrow Stile PIN/Prox PDL1300 PC-programmable model comes with all the trimmings offered on our DL1300 plus more. A built-in prox reader on PDL1300, supports HID Prox ID cards or fobs for added security. Easy tap and add batch prox ID card enrollment mode allows many cards to be quickly added without the use of a PC. This feature cuts the tedious work of entering your users information onto the lock. You may choose to use your PC and operate our prox enroller tool (sold separately) to download your information onto your PDL1300. While you receive between 80,000 - 100,000 cycles on both DL1200 and DL1300, our PDL1300 typically receives around 65,000 cycles. To learn about our Narrow Stile Series, visit www.alarmlock.com or call 1-800-252-5625.

About Alarm Lock Systems, Inc.

For more than three decades Alarm Lock Systems, Inc. has built a strong reputation as a respected leader in the design and manufacture of electronic and mechanical access and egress control products. Our wide range of electronic access locks has pushed all the right security buttons for security directors, business owners, and facility managers, who know that Alarm Lock's keyless access dependably promises time-automated security and a wealth of management information. Meanwhile, Alarm Lock's door alarms and panic exit hardware devices remain unmatched in performance in the locking industry. Alarm Lock Systems, Inc., is a Napco Security Group Company publicly traded on NASDAQ: NSSC.

Contact: David Saltzman
Alarm Lock Systems, Inc.
345 Bayview Ave.
Amityville, NY 11701
631-842-9400 ext 169
dsaltzman@napcosecurity.com

More from Computer Hardware & Peripherals