Push-to-Connect System is suited for robotic welders.
Press Release Summary: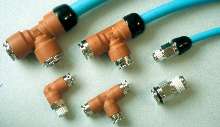 Push-to-connect system consists of MicroWeld(TM) fittings and Parflex Microweld tubing designed for air and water supply lines on robotic welding equipment. Silicon-free components have UL94 V-O rating for flame resistance and prevent spatter build-up. No-skive tubing reduces assembly time, while push-to-connect technology facilitates assembly, disassembly, and re-assembly. Fittings are available in various configurations in ¼, 3/8, and ½ in. sizes.
---
Original Press Release:

Parker Introduces Push-to-Connect MicroWeld(TM) System for Robotic Welders


The Brass Products Division of Parker Hannifin Corporation has introduced a new push-to-connect system of MicroWeld(TM) fittings and Parflex Microweld tubing for air and water supply lines on robotic welding equipment. The silicon-free components have a UL94 V-O rating for flame resistance and are designed to prevent spatter build-up. The no-skive tubing reduces assembly time, and Parker's proven push-to-connect technology permits fast and easy assembly, disassembly and re-assembly. This enables robot manufacturers to reduce their assembly costs and offer their customers lower maintenance costs.

Parker MicroWeld fittings are available in a range of configurations in 1/4", 3/8" and 1/2" sizes for use with Parflex MicroWeld tubing, The tubing is self-extinguishing, has no jacket to skive, does not require special tools and is available in four standard colors (black, blue, green and white) for circuit identification. The tubing features an ether-based polyurethane for maximum hydrolytic stability, and optimal flexibility. Suggested operating temperature range is -40°F (-40°C) to +180°F (+82°C), at a working pressure (@73°F) of 175 psi for 1/4" tubing, 150 psi for 3/8" tubing and 160 psi for 1/2" tubing.

For product information write: Parker Hannifin Corporation, Catalog Services Dept, 8940 Tyler Blvd., Mentor, OH 44060-2186

More from Services