Push-to-Connect Fittings are offered in acetal and brass.
Press Release Summary: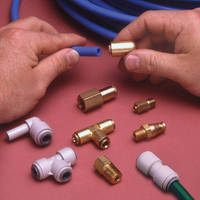 Available in acetal copolymer as well as brass, Newloc® push-to-connect fittings accelerate connections to rigid and semi-rigid tubing. Products offer instant, leak-proof connections with no flow restrictions as well as full vacuum rating to 29.9 in./Hg. While plastic versions, certified for use with food equipment materials (NSF-51) and potable water (NSF-61), are suited for pneumatics, brass versions handle temperatures to 200°F and max pressure ratings to those of connected tubing.
---
Original Press Release:

Push-to-Connect Fittings in Two Materials Now Available from NewAge® Industries



Stocked in Both Acetal & Brass

Southampton, Pa. - NewAge Industries now offers easy-to-use Newloc® push-to-connect fittings in acetal copolymer and in brass. Both are stocked in popular sizes and styles and allow quick connections to rigid and semi-rigid tubing such as nylon, polypropylene, and polyethylene. Typical applications include pneumatic control systems, food and beverage transfer, potable water, robotics, instrumentation, and chemical lines.

Newloc fittings offer instant, leak-proof connections with no flow restrictions, as well as a full vacuum rating (29.9 in/Hg). They're designed to work with rigid and semi-rigid tubing but may also be used with softer materials depending on the tubing's durometer or by using a tube support. Newloc fittings are easy to install, disconnect and reuse - no tools are needed. They allow for fast assembly of tubing systems, saving time over other connection options like barbed fittings and clamps.

The two Newloc materials satisfy requirements for different applications. Plastic (acetal) Newlocs offer light weight and are available in inch and metric sizes. They're certified by the National Sanitation Foundation for use with food equipment materials (NSF-51) and potable water (NSF-61) and are well suited for pneumatics. Plastic Newlocs are produced by John Guest, a respected name in fittings manufacturing.

Durable Brass Newlocs handle higher temperatures - up to 200°F (93°C) - than the acetal style, and their pressures are limited only by the working pressure of the plastic tubing being used. Pulling on the inserted tubing or increasing the pressure actually tightens the fitting's seal.

NewAge stocks Newloc Acetal push-to-connect fittings in sizes ranging from 1/8" to 1/2" tube O.D. and from 4mm to 12mm tube O.D. The brass version is available in sizes from 1/8" to 1/2" tube O.D. Styles include tees, elbows, adapters, unions, Y's, 4-ways, bulkhead unions, and more. A wide variety of tubing to mate with Newlocs is also stocked.

For information on NewAge Industries' Newloc push-to-connect fittings, contact the Fluid Transfer Specialists® at NewAge Industries, Inc., 145 James Way, Southampton, PA 18966; phone 800-506-3924 or 215-526-2300; fax 800-837-1856 or 215-526-2190; e-mail: [email protected]: web page: http://www.newageindustries.com/fittngs.asp

About NewAge Industries and AdvantaPure®
In business since 1954, NewAge Industries manufactures and fabricates thermoplastic and thermoset tubing in both reinforced and unreinforced styles. The company offers an overall product quality rating of 99.7%, provides extensive custom extrusion and fabrication capabilities, and services customers worldwide. NewAge Industries maintains a large inventory and prides itself on same-day shipment of 99% of orders for its core product lines. In 2006, NewAge initiated an ESOP (Employee Stock Ownership Plan) for the benefit of both its employees and customers.

The AdvantaPure division of NewAge Industries is ISO 9001:2008 certified and specializes in high purity tubing, hose, single use systems, manifolds, and other molded components for the pharmaceutical, biomedical, food, beverage, and chemical industries. All products are manufactured, stored, and shipped using the cleanest methods possible to ensure unsurpassed product purity. RFID systems, including gamma-irradiatable styles, are offered as well.

Newloc®, NewAge®, NewAge Industries AdvantaPure®, and "Fluid Transfer Specialists®" are registered trademarks of NewAge® Industries, Inc.