Push-In Terminal Blocks utilize spring pressure.
Press Release Summary: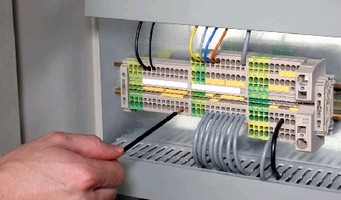 Covering cross section of 2.5-16 mm², Models PDU 2.5/4, PDU 6/10, and PDU 16 have wiring ranges of 20-10, 14-8, and 14-4 AWG, respectively. Solid core wires, once stripped of insulation, are inserted into terminal point until they hit stop; no tools are required to make connection. Push-in direct connection technology ensures vibration-resistant and gas-tight fit. Made from Wemid thermoplastic material, blocks withstand continuous operating temperatures to 248°F.
---
Original Press Release:

Cut Your Costs for Design Time, Inventory and Installation Labor - Introducing Weidmuller's New P Series Push-in Terminal Blocks



RICHMOND, VA (July 10, 2006) - As the pressure to trim production costs while ensuring product quality continues, controls manufacturers are looking for ways to accomplish these goals in order to maintain their competitiveness and improve efficiencies. Reductions in design time, labor and inventory costs are just a few of the ways companies can reduce their overall manufacturing costs.

Weidmuller introduces the new P Series terminal blocks with push-in connection technology, designed to provide manufacturers with secure and reliable terminations, and achieve true savings. Designed to reduce the number of terminal block variations required, three P Series terminal blocks cover a cross section of 2.5mm² to 16mm² - a function previously requiring five different blocks. The PDU 2.5/4, PDU 6/10 and PDU 16 have wiring ranges of 20 - 10 AWG, 14 - 8 AWG, and 14 - 4 AWG, respectively. This reduction in the number of part numbers from five to three can save companies time and expense in design, procurement and inventory costs.

The P Series push-in terminal blocks are not only safe and easy to use, but can reduce wiring time by as much as 60%, providing additional cost savings.

Solid core wires, once stripped of insulation, are simply inserted into the terminal point until it hits the stop - no tools are required to make the connection. The push-in connection system is even suitable for flexible wires with crimped-on ferrules - with or without plastic collars - and ultrasonic bonded wires. The push-in direct connection system is based on the pressure spring principle; the spring for the wire connection is in a separate cage. This design reliably separates the mechanical and electrical functions, and provides greater wire retention. The pressure spring is protected by a stop that restricts spring excursion, while the cable entry design prevents incorrect insertion of the wire. The push-in direct connection technology ensures a reliable, vibration-resistant and gas-tight connection.

Weidmuller's P Series terminal blocks are designed as a TOP system; wire insertion and spring operation to disconnect the wire are carried out from above and parallel to one another. This new series includes feed-through and ground terminal blocks with 2, 3 and 4 connections, as well as dual-level, disconnect and isolating neutral terminals - all designed for TS-35 DIN rail mounting. A power supply terminal for electrical distribution applications is also available.

The feed-through terminal blocks are UL rated: PDU 2.5/4 (600V/20A/26-10AWG), PDU 6/10 (600V/44A/14-8AWG), and PDU 16 (600V/75A/14- 4AWG). In addition, Dual-level terminals are rated for 300V/10-20A/28-10AWG. They contain two continuous jumper channels that accommodate Weidmuller's fully insulated pluggable ZQV 2.5 jumpers for finger-safe connections. Each terminal block is made from Wemid, a thermoplastic material that withstands a continuous operating temperature up to 248˚F (120˚C), and has the highest possible flammability rating in its class, UL 94 V-0 (non-burning).

Weidmuller is a leading supplier of control and automation connectivity solutions such as Reliable Ethernet Solutions, Power Delivery Solutions, Design-Build-Deliver Solutions, Complete Rail Solutions, switching technology for control panels, printed circuit board terminals and connectors, and terminal blocks. Weidmuller has approximately 3,400 employees worldwide, with 70 sales organizations or offices in more than 60 countries.

Weidmuller 821 Southlake Blvd. Richmond, Virginia 23236
Phone: (804) 794-2877 FAX: (804) 379-2593

More from Electronic Components & Devices