PurgEye® 600 Monitor is equipped with long life sensor.
Press Release Summary: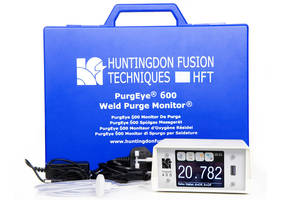 Suitable for nuclear industry, PurgEye® 600 Weld Purge Monitor features 81 mm full color touch screen and on-screen graph displaying oxygen levels during welding process. Featuring USB data logging capabilities, product is embedded with PurgeLog™ software. Featuring quick fit and leak fittings, unit activates control alarms when there is change in oxygen levels. PurgEye® 600 comes with internal sampling pump with gas filtration.
---
Original Press Release:
Weld Purge Monitor® for the Nuclear Industry
With the growth of Nuclear Power activities around the World, there is a large volume of stainless steel pipework that will need to be welded to a high standard, with no oxidation that can lead to loss of corrosion resistance.
To meet the higher standards of welding that the Nuclear Industry expects, a unique Weld Purge Monitor® has been designed that reads all the way from atmospheric level of oxygen (20.94%), down to one part per million (0.0001%), in one instrument, available in the USA from COB Industries.
COB Industries said: "For the first time, this one instrument has a full range of measurement reading from atmospheric concentration (20.94%), down to 1 ppm, accurate to 10 ppm. Readings are indicated either as parts per million or in percentage, breaking all technological boundaries in one instrument."
Using ground breaking technology, the PurgEye® 600 has a long life sensor that won't need replacing or recalibrating. This high level, advanced instrument has been designed with a large, full colour touch screen (3.2"/ 81 mm) and on-screen graph displaying the oxygen levels during the welding process.
USB data logging capability allows the operator the ease of data transfer without the need for a computer connection. These stable, accurate results can be logged for each weld, using the PurgeLog™ Software. An internal sampling pump with gas filtration is also included, which means there is no requirement for an external hand pump.
Quick fit / disconnect, leak tight fittings are manufactured as standard on the PurgEye® 600. In addition, control alarms will activate in the event of rising or falling oxygen level, which can be pre-set by the user.
For further information, please contact:
COB Industries
Tel: 800-431-1311
More from Software